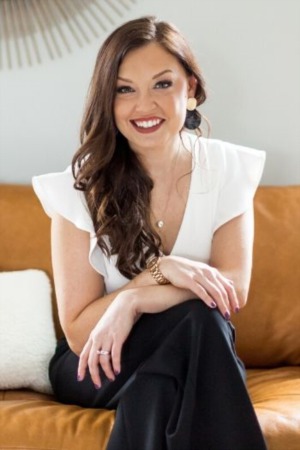 Born and raised in Louisville, Stephanie is the leader of First Saturday Real Estate. She received her degree in accounting from Indiana University Southeast. She found her passion for real estate at an early age and began pursuing her career in 2014.
Stephanie's innate ability to connect with people proves to be her strongest attribute in helping them through the complicated process of buying and selling real estate. She has been a rising star in real estate; In her first year, she was recognized as one of the top rookies in the largest brokerage in Kentucky. She has lead & personally nurtured the growth of one of the fastest-growing real estate groups in Louisville.
A passionate mother to two wonderful boys, Stephanie prioritizes her active personal life while balancing her career.  As a foster parent, Stephanie has injected herself into the improvement of the Kentucky foster system. She does all this while being a dual cancer survivor. Diagnosed with advanced-stage ovarian cancer in 2014 and early-stage kidney cancer in 2015, she is currently cancer-free and uses her experience as an a-typical cancer survivor to mentor other young cancer survivors. Every day is a gift to Stephanie and her family and she spends most of her days in the field she loves most – real estate.
Testimonials
First off, let me start off by saying that I didn't know Stephanie before starting the house hunting process. Secondly, I am not always an easy client, because I always want perfect and want it yesterday. The job that my husband was interviewing for set us up with Stephanie. Upon meeting her I immediately noticed how professional, knowledgeable, and just an all around good person she is. Not only did she take us to see homes, but to see a variety of neighborhoods in the city that may be a good fit for our family. She truly did her due diligence to ensure that we ended up in the right spot. As I got to know Stephanie better, I learned what kind of fighter she really is and saw how that reflected over to her work. She fought for us to get a perfect home in the neighborhood we wanted at a price that we were pleased with, despite the stale market and low inventory. As a sales person, I'm always critical of another but was amazed by her going above and beyond every step of the way. She is a resource for all things Louisville and even sets up events for her clients get to know people in the area. During the process I think we met everyone on the First Saturday team, as they showed some homes as well. They were all genuinely happy to do so, and I think that is indicative of the environment that Stephanie and Greg have created within their business. I would recommend them all! All that to say that we are beyond happy to have worked with First Saturday, and Stephanie is definitely the reason we got our dream home, even during a crazy time where homes fly off the market as soon as they are listed. I can't recommend the First Saturday team enough!!
Nichole Kurtz, Louisville, left feedback 0 months ago
Stephanie was awesome in handling everything from cleaning of my home, photos, dealing with my current tenant, arranging repairs, etc.... all while I lived several states away and never even got to meet her! Highly recommend her! Amber was great and always got back promptly!
Alexis Meyers, Pittsburgh, left feedback 0 months ago
Stephanie and Greg went out of their way to make purchasing our home a smooth experience, even during COVID and while we were living out of state. They were easy to reach and did everything they could to ensure that we had as much of the same information and "feel" of each property as if we had been able to be there in person. Without us even asking, they anticipated or offered for contractor inspections, took videos during walk throughs, and met utility workers on site when we could not be there. They truly went above and beyond and approached the process as if they were hunting for a new home for dear friend and not a new client.
The Dryers, Mt Washington, left feedback 2 months ago
More Testimonials