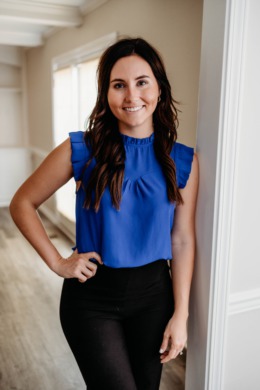 As the third generation of Realtors in my family, I am extremely educated about the intricacies of our local market. Knowing the importance of a house feeling like home, I work to fully understand what you need as you search for your next home. When you are ready to sell, my team and I work together to present your home perfectly, from staging to professional photographs, to extensive marketing to ensure that you are in the best position to move forward into your next phase of life. My years of experience create a smooth process, whether buying or selling, that will leave you with confidence of a job well done and having chosen the right agent for the job.  
Being born and raised in Louisville as well as a graduate from the University of Louisville I take pride in our city. In between helping my clients achieve their real estate goals I enjoy lifting weights at our local gyms and taking my miniature goldendoodle, Bailey, to the park with my husband. I also actively invest in real estate in Louisville and am a member of the Kentucky Real Estate Investors Association.  
Testimonials
As a first-time homebuyer in a competitive market, I wasn't too hopeful on finding the right home in my budget. I had a "if it happens, it happens" expectation, which Casey totally understood. But she was also optimistic, and very diligent in finding listings that fit my criteria. Despite the fast-paced market, she never pressured me into making an offer I wasn't comfortable with. We ended up finding a great fit, with a very smooth closing thanks to Casey and her team. I really appreciated the regular updates to keep me in the loop and involved in the process. As someone who has previously worked in the real estate industry, Casey was a shining example of what an agent should be: responsive, tenacious, and supportive. I am so grateful to have worked with her, and she'll absolutely be getting my call when I'm ready to sell!
Celeste, Louisville KY, left feedback 1 months ago
We have been working with Casey off and on for more than two years on our next home purchase and the planning to sell ours. She was very knowledgeable and thorough when answering all of the little questions we had during our lengthy planning period. Casey could not have done a better job selling our home or making sure that we received the best price possible for our investment. She went above and beyond for us, coordinating a staging consultant for decluttering advice and a listing photographer that had drone and 3D walkthrough capabilities (this technology enabled an above-asking price offer from an out-of-state buyer!) She prepped, priced and marketed our home so well that we had over 6 showings the first night with multiple offers over asking price and 30+ showings scheduled for day 2! Casey made the stressful process of buying and selling a house run as smoothly and calmly as possible. She was supportive, transparent and made the time to fully understand our concerns and needs. I cannot say enough to impress how grateful I am that we had Casey in our corner during this important life change! I would recommend Casey to anyone looking for an agent with in-depth market knowledge, game changing connections, attention to detail and prompt follow through.
Arien Clevenger, Louisville, left feedback 3 months ago
More Testimonials