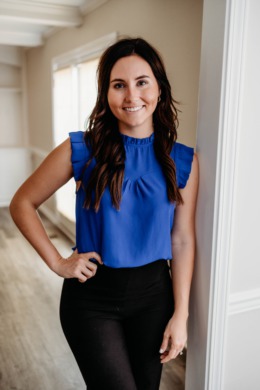 As the third generation of Realtors in my family, I am extremely educated about the intricacies of our local market. Knowing the importance of a house feeling like home, I work to fully understand what you need as you search for your next home. When you are ready to sell, my team and I work together to present your home perfectly, from staging to professional photographs, to extensive marketing to ensure that you are in the best position to move forward into your next phase of life. My years of experience create a smooth process, whether buying or selling, that will leave you with confidence of a job well done and having chosen the right agent for the job.  
Being born and raised in Louisville as well as a graduate from the University of Louisville I take pride in our city. In between helping my clients achieve their real estate goals I enjoy lifting weights at our local gyms and taking my miniature goldendoodle, Bailey, to the park with my husband. I also actively invest in real estate in Louisville and am a member of the Kentucky Real Estate Investors Association.  
Testimonials
Casey is amazing! Words cannot express how blessed we are to have her as our realtor. I highly recommend her if you are planning to buy or sell a home.
Candace
Casey is the best! She was able to make sure we found our dream home and helped us be competitive while still paying less than the appraisal cost. Casey was patient with us when we were changing our minds and was extremely accommodating. I would recommend Casey to anyone looking to buy or sell a home!
Morgan Bailey
Casey was absolutely amazing. My wife and I are so lucky we found her on Instagram! We were doing a cross country move which was a learning curve for us. Casey made things easy knew the area was extremely patient and just easy to work with. Casey is the reason we got the home we're in before it even hit the market! I'd recommend her to anyone looking for a great realtor.
Brendan Hughson
I knew Casey was going to be the best realtor for us even before I met her but I didn't realize she would be the reason my husband and I found our absolute dream home. Relocating from our home state of California in this 'hot' market was stressful enough but Casey helped guide us through the process and helped ease our minds when things got tricky. I would absolutely recommend Casey to anyone looking to buy or sell in the greater Louisville area. Know one knows it better!
Dani Hughson
Casey was fantastic throughout the entire buying and selling process. She laid out all of our options in great detail and she helped us with the difficult decisions. She was great about keeping an open communication line throughout the whole process as well. While I hope we don't move anytime soon (because we are very happy with the house she helped us find) when we do we will definitely be using her again.
Mary Meyer
More Testimonials