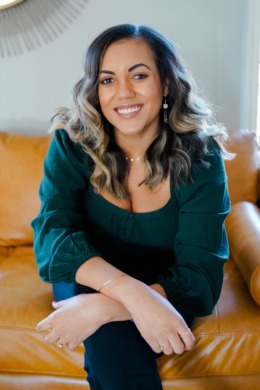 Roya graduated from University of Louisville with a Bachelor's Degree in Communications. She started her career in Marketing & Property Management in 2013. After helping countless amazing residents find a place to call home, she wanted to help people stop throwing away their money on rent and start investing in their future - so she became a Real Estate Agent with the goal of educating and providing her clients with top-tier service. Roya was given the 2020 PropertySpark Top 20 Real Estate Agents on Social Media award, she is a Mentor for Big Brothers Big Sisters, and is on the Breath of Fresh Air Committee for the American Lung Association. 
While Roya very much enjoys helping her clients begin a new journey (whether they're 1st time homebuyers or seasoned pros), the best part is the lasting relationships she develops with the people she works with.
Testimonials
Roya was the absolute best. I didn't have to worry or stress about anything... even with an out of town closing she made sure I didn't have to worry about anything. She added her own personal touches and always guided me in the right direction. Highly recommend. I have dealt and talked with a handful of relators non compare to Roya
Phylicia Ashley
Roya was a joy to work with as out-of-state first-time home buyers! From our first virtual meeting with her she put my partner and I at ease. She has so much knowledge to share about all stages of the home search and buying process and she conveys it clearly and without being overwhelming. Her tips on what neighborhoods would be a great fit for our wishlist and lifestyles led us to learn about lovely places we weren't familiar with from our time living in Louisville five years ago. She was quick to respond to our questions and requests for more information on listings. She was so helpful in the offer process--she helped us craft a strong offer without pushing us outside of our comfort zone. Without hesitation I recommend her to anyone looking for a buyer's or seller's agent!
Hannah O'Daniel McCallon
Roya Headley is a terrific real estate agent! She is knowledgable passionate friendly and communicative. She made the house search assembling our offers and navigating closing so much easier than it could have been. We were buying our house while renting out of state and Roya made it possible for us to feel comfortable buying a home from afar. She showed us each house we were considering via a Zoom tour which was essential during the Covid-19 pandemic.As first time home buyers we had many questions for her and Roya was always so patient with us. She even bought us lovely closing gifts from a local merchant which was above and beyond what we ever expected. We will absolutely recommend her to anyone who needs a real estate agent in Kentucky!
Matt Brown in Louisville KY
EVERYTHING WENT VERY SMOOTHLY. ROYA HAD ALL THE INFORMATION WITH OPTIONS THAT I NEEDED. ROYA IS SUCH A PLEASANT LADY TO WORK WITH. SHE IS VERY HELPFUL AND ALWAYS THERE IF NEEDED.Roya is great at follow through. She has contacted me after the sale to see if I need anything and is always available if I need her. She really has been instrumental and the inspection repairs that occurred were such an asset to the sale as these items have been addressed with new warranties.
Cheri Connors. St Matthews
Roya Was recommended by family member she was very professional very professional and very knowledgeable Roya knew what we were looking for and found us our dream home I would highly recommend Roya Headly for all of your home buying and selling needs. Roya is a great realtor thank you for the experience GREAT JOB!!!!!!!!!
Robert  Mowbray  Louisville
More Testimonials