10 Reasons to Visit Louisville
Posted by First Saturday Real Estate on Friday, May 15, 2020 at 12:31 PM
By First Saturday Real Estate / May 15, 2020
Comment
Louisville has a lot to offer visitors from its food scene, arts, festivals, bourbon distilleries, beer breweries and more. There are tons of reasons to book a trip to our great city.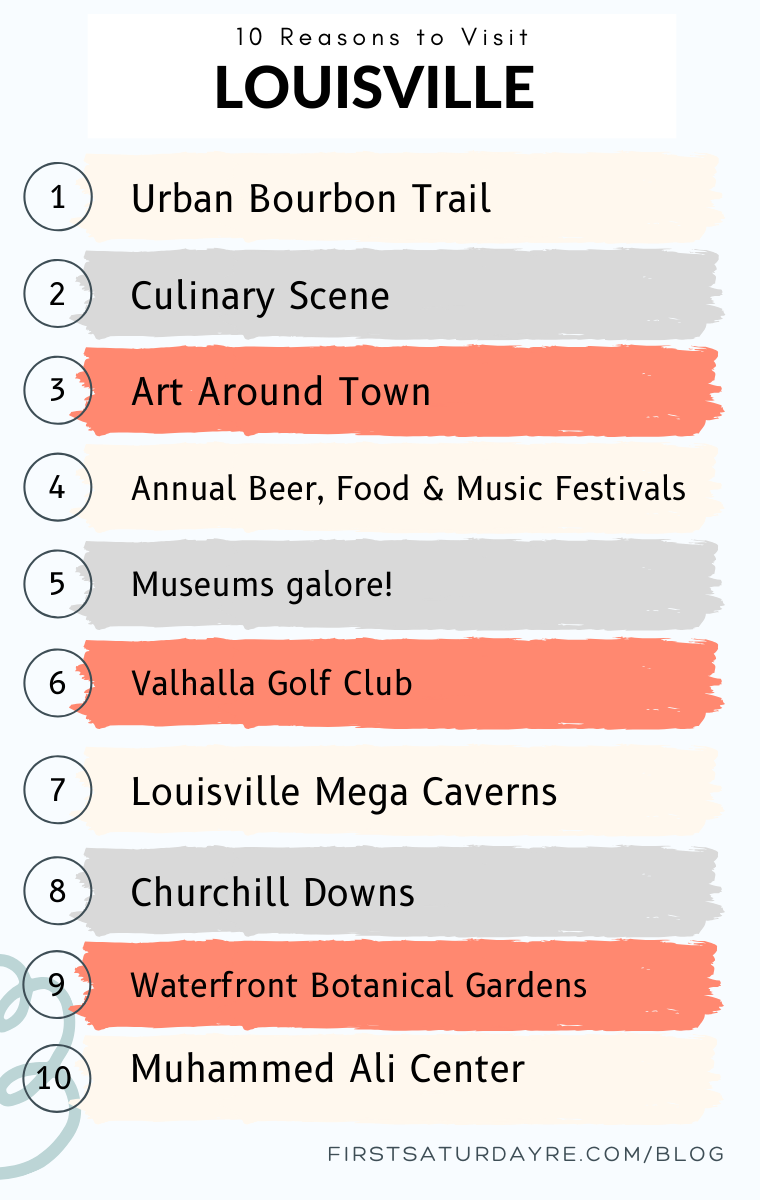 1. URBAN BOURBON TRAIL
The Urban Bourbon Trail is a cocktail and culinary experience highlighting Louisville's most celebrated Bourbon bars and restaurants. Each of the more than 40 spots along that trail has at least 50 Bourbons on its menu. (And if the establishment also serves food, you'll find Bourbon-inspired dishes, too). The UBT passport serves as your guide to these spirited establishments. Pick one up at the Louisville Visitor Center in downtown Louisville at 4th and Jefferson Street, or at any one of the stops. Receive six stamps on our passport and you'll be awarded a special Urban Bourbon Trail® gift!
Urban Bourbon Distilleries include:
ANGEL'S ENVY DISTILLERY
BULLEIT FRONTIER WHISKEY EXPERIENCE
COPPER & KINGS
EVAN WILLIAMS BOURBON EXPERIENCE
JIM BEAM URBAN STILLHOUSE
KENTUCKY PEERLESS DISTILLING CO.
MICHTER'S FORT NELSON DISTILLERY
OLD FORESTER DISTILLING CO.
RABBIT HOLE DISTILLERY
2. CULINARY SCENE
Let's face it, there are plenty of reasons to come to Louisville but while you're here, enjoying the local cuisine may be a highlight in your trip. In recent years, Louisville has gained the national recognition it deserves from Zagat, Southern Living and reality TV shows like Top Chef & Chopped featuring Louisville contestants and local chefs. Each neighborhood has its own culinary highlights. Some local favorites include, Con Huevos, Butchertown Grocery, Proof on Main, Taco Luchador, Chik'n & Mi, Rye, LouVino, MozzaPi, Time 4 Thai, Dragon King's Daughter, Le Chasse, Queen of Sheba, Louisville Cream, Blue Dog Bakery & Café, Red Hog, Ramiro's Cantina, Guacamole, Mojitos in Havana, Bearno's Pizza, DiOrio's and Hometown Pizza, Fat Lamb, Hop Cat….honestly, there's so many more we just can't name them all!
3. ANNUAL BEER, FOOD & MUSIC FESTIVALS
In recent years Louisville's events list has exploded offering something for everyone. We love to bring together our community in celebration and love and we find just that with every festival we throw!
In the late 19th and early 20th centuries, German immigrants made Louisville one of the country's major brewing hubs. The last decade has seen a resurgence in the city's beer culture. With 21 breweries, a tasty craft beer scene and a host of beer-centric events and festival, it's no surprise the VinePair named Louisville among "the World's Top 10 Beer Destinations." You can experience Louisville's beer scene with Derby City Brew, Louisville Brew Bus or attend ono of the many beer festivals or events. We've named a few below!
Tailspin Ale Fest
Shamrock Beer Run
NuLu Bock Beer Fest
Kentucky Derby Festival BeerFest
Highlands Beer Festival
Kentucky Craft Bash
Blues, Brews & BBQ
Brew at the Zoo
Old Lou Brew
FOOD FESTIVALS
World Fest – WorldFest features incredible music, food, and art from cultures around the world. The food is from local restaurants set up in tents. This year's 15th annual WorldFest will take place from September 1st through 4th.
Other festivals: Nulu Festival, Taste of Louisville, Cured & Crafted, Food Truck & Craft Beer Fest, Blue and BBQ
MUSIC FESTIVALS
Garvin Gate Blues Festival - Running since 1988, Old Louisville is home to one of the largest free blues festivals in the Midwest. A two-day event that takes place the second full weekend of October, it attracts thousands of attendants from all over. The proceeds from sponsorships and vendor sales benefit the Garvin Gate Neighborhood Association, the Old Louisville preservation district neighborhood, the Kentuckiana Blues Society and different charities every year.
Other notable festivals: Forecastle, Hometown Rising, Bourbon & Beyond, and Louder Than Life
3. ART AROUND TOWN
Louisville is a community that surrounds its local artists with and outpouring of support from the performing artists to visual artists. Catch a show at one of the many performing art centers around the city, visit a local gallery or annually held art show. There are tons of art to be consumed and admired.
PERFORMING ARTS
Kentucky Center for the Performing Arts
Kentucky Opera
Louisville Orchestra
Louisville Ballet
Louisville Palace Theatre
Actors Theatre of Louisville
Derby Dinner Playhouse
VISUAL ARTS
Mellwood Art Center
Carnegie Center for Art & History
Flame Run
St. James Art Show
Butchertown Art Fair
Cherokee Triangle Art Fair
5. VISIT A MUSEUM
Frazier History Museum
The Frazier History Museum is a world-class museum that provides an unforgettable journey through history with ever-changing and interactive exhibits, daily performances by costumed interpreters and engaging special events and programs. To complement our amazing permanent collection, which includes thousands of items from famous world leaders and one of the country's largest toy soldier displays, the Frazier Museum offers an ever-changing selection of intriguing temporary exhibits. Every day, we offer live historic performances, bringing visitors face to face with some of the people and events that changed the world forever, as well as with average people whose moving and important stories you've probably never heard. The Frazier Museum is located on downtown Louisville's "Museum Row" in a beautiful 100,000-square-foot, state-of-the-art facility originally called the "Doerhoefer Building," a late 19th century, Chicago-style commercial structure. The Frazier Museum has three floors of exhibits, an education center, Museum Store and tournament ring, as well as event spaces available for rent, including a beautiful Rooftop Garden featuring seasonal blooming flowers and our Fourth Floor Loft space that accommodates up to 360 people seated.
Kentucky Derby Museum
The Kentucky Derby Museum, where every day is Derby day, is the official tour provider of historic Churchill Downs. When you visit the Museum, you will find yourself immersed in the next best thing to actually being at the Derby! As the exclusive tour provider for the track, various tours are offered throughout the year even when the track isn't in session with live racing. General admission includes two levels of family-friendly interactive permanent & temporary exhibits, "The Greatest Race," a 360-degree immersive sound and visual experience that'll get your heart racing and emotions soaring, Historic Walking Tour of Churchill Downs Racetrack, access to the Gift Shop, Kentucky fare in the Derby Cafe Express and much more!
Speed Art Museum
Founded in 1925 as a memorial to prominent Louisville businessman John Breckenridge Speed and opening to the public in 1927 in its Arthur Loomis-designed building, the Speed is Kentucky's longest-operating art museum. Their collection features many works from multiple cultures and genres, including African, Native American and European art, contemporary art, photography and a plethora of works from Kentuckians. The Speed hosts regular expositions with works by Norman Rockwell or Ai Weiwei and more. Additionally, you can enjoy on of the many concerts, gallery talks, lectures, tours, workshops or family events hosted here!
Portland Museum
A magnet for history buffs. Housed in an 1852 Italianate mansion, the museum uses models, life-sized characters, photographs and film to tell the story of the former river town. During your tour, you'll learn about the Falls of the Ohio, Portland Wharf and how the canal was built, and also learn some fascinating facts from a bygone era.
Others museums to checkout: Louisville Slugger Museum, Conrad-Caldwell House Museum (Conrad's castle), 21C Museum Hotel, KMAC Museum
6. VALHALLA GOLF CLUB
Named after Norse mythology's great hall where Vikings and gods celebrated together, Valhalla Golf Club is a modern retreat for golfers. The course began with Dwight Gahm, who created a world-class course that could host major golf championships. This course made history through a partnership that makes Louisville a recurring host of championship golf. Valhalla Golf Club has hosted the Ryder Cup, two Senior PGA Championships and three PGA Championships. Many greats have played at Valhalla, including Tiger Woods during the 2000 PGA Champion ship. The club include PGA instruction and a 15-acre practice facility.
7. LOUISVILLE MEGA CAVERNS
The Louisville Mega cavern is manmade. During the Great Depression, the government provided work by investing in new bridge and road construction, and Louisville local Ralph Rogers saw a business opportunity: Directly under the Louisville Zoo, Rogers and his team mined limestone for roads and bridges in the Midwest, creating the cavern. The 100-acre limestone cavern is strong enough to withstand natural and manmade disasters and was part of safety plans during the Cuban Missile Crisis. Today, the cavern is considered Kentucky's largest building, and by tonnage it is Kentucky's largest recycling center. All underground, there are zip lines, trams, bike parks, and aerial ropes courses are adventures that can be scheduled at the Mega Caverns.
8. CHURCHILL DOWNS
Founded in 1875 by the grandson of explorer William Clark, Meriwether Lewis Clark Jr., this racetrack is best known as the site of the annual Kentucky Derby. A century after the first major stakes race, Churchill Downs was designated a National Historic Landmark. Today, the Kentucky Derby is the oldest continuously held major sporting event in the United States, attracting more than 160,000 people every year. But there's more to Churchill Downs than just thoroughbreds. After all, it's hosted the Kentucky State Fair and music festivals—and a Kentucky Derby Museum sits in the shadows of the Twin Spires.
9. WATERFRONT BOTANICAL GARDENS
The new Waterfront Botanical Gardens, covering 85 acres, entertains and educates visitors about botanical gardens. When all of the garden phases are complete, the park will include water sports and a botanical garden along the Ohio River. Even though construction will be ongoing, the first building opened to the public October 2019. The first building houses a pollinator meadow, the Evergreen Tapestry and educational gardens.
10. MUHAMMED ALI CENTER
Located in the heart of historic downtown Louisville, Kentucky, the Muhammad Ali Center is a cultural attraction and international education center inspired by the ideals of hometown hero Muhammad Ali. The Ali Center features 2 levels of award-winning exhibits, a five-screen orientation theater film, historic Civil Rights era media footage, video of Ali fights, interactive boxing fun, two art galleries, children's Hope and Dream wall, meeting and event space, retail store and more.
** Content sourced and written direct from Greater Louisville Relocation Guides 2019 & 2020 and Trip Advisor.