Fun Fare for your 4th of July Festivities!
Posted by First Saturday Real Estate on Friday, July 3, 2020 at 1:22 PM
By First Saturday Real Estate / July 3, 2020
Comment
Heading to or hosting a 4th of July party this weekend!?
We have some great recipes to add to adorn the occasion!

4th of July Taco Dip
Spice up your 4th of July party! Serve this tasty dip with your favorite tortilla chips and it will surely be a hit.
Serves: 8 Prep: 15 minutes Total: 15 minutes Difficulty: Easy
Ingredients
1 can (16 oz.) Kroger® Traditional Refried Beans
1 container (16 oz.) guacamole
1 jar (16 oz.) chunky salsa
1/2 cup black beans, rinsed and drained
1 cup Monterey Jack cheese, shredded
1 cup cherry tomatoes, halved
Directions
Step 1 - In a 9"x12" serving dish, spread the refried beans in a single layer.
Step 2 - Spread the guacamole over the beans, then spread the salsa over the top.
Step 3- Place the black beans in the top left corner of the salsa shaped into a square. Place the cheese in a straight line at the top of the pan, then underneath place the tomatoes in a straight line. Alternate until the whole pan is covered.
Step 4 - Refrigerate for 1-2 hours.
Step 5 - Serve with tortilla chips.
Step 6 - Refrigerate leftovers.

Tennessee Hot Fried Chicken
A spicy, fat-based pepper sauce adds tons of heat while keeping your fried chicken crunchy. For a milder option, use less cayenne, or don't coat the chicken as thoroughly.
Serves: 6 Prep: 20 minutes Cook: 40 minutes Total: 1 hour Difficulty: Easy
Ingredients
1 whole chicken, cut up and breasts split in half (10 pieces)
3 tablespoons salt, divided
2 1/2 cups all-purpose flour
1 tablespoon ground black pepper
1 cup buttermilk
2 large eggs
1/4 cup hot sauce
2 tablespoons Kroger® Ground Red Cayenne Pepper
1 tablespoon brown sugar
1 teaspoon paprika
1/2 teaspoon garlic powder
1/2 cup canola or peanut oil, plus more for frying
Pickle chips, for serving
Directions
Step 1- In a bowl, toss chicken pieces with 1 tablespoon salt. Refrigerate covered, at least 3 hours or overnight. Step 2 - In a wide, heavy bottom pan or deep fryer, heat oil to 325°F.
Step 3 - In a bowl, whisk together flour, pepper and remaining 2 tablespoons salt.
Step 4 - In another bowl or pie plate, whisk together buttermilk, eggs and hot sauce.
Step 5 - Place chicken pieces in buttermilk mixture, then dip pieces in the flour mixture, shaking off excess. Repeat both steps once more, making sure to coat thoroughly.
Step 6 - Allow to stand about 15 minutes to set the breading.
Step 7 - Meanwhile, in a bowl mix together oil, cayenne, brown sugar, paprika and garlic powder. Set aside.
Step 8 - Place a cooling rack over a baking pan. Set aside.
Step 9 - Fry chicken in batches until golden brown and internal temperature reaches 165°F, about 6-8 minutes per side depending on size. Remove and place in prepared pan. If chicken is getting too dark before reaching the proper internal temperature, place pan inside an oven set to 325°F to finish cooking through.
Step 10 - Brush chicken generously with spicy oil mixture.
Step 11 - Serve chicken on top of white bread slices with pickle chips.
Step 12 - Refrigerate leftovers.
Step 13 - Tip: Using hot frying oil in the spice mixture helps to bloom the spices to bring out more flavor. Make sure to combine in a heatproof vessel.



Watermelon Salad with Feta & Pistachios
Combine sweet, juicy watermelon with savory feta and pistachios for a fresh summer salad!
Serves: 4 Prep: 15 minutes Total: 15 minutes
Ingredients
4 cups cubed watermelon
2 Private Selection™ Mini Seedless Cucumbers, thinly sliced into ribbons
1/2 red onion, thinly sliced
Coarse sea salt and freshly ground pepper, for seasoning
2 tablespoons Private Selection™ Extra Virgin Olive Oil
Private Selection™ Balsamic Glaze, for drizzling
4 ounces Private Selection™ Crumbled Feta Cheese
1/4 cup Private Selection™ Shelled Pistachios, roughly chopped
Fresh basil, thinly sliced, for serving
Directions
Step 1 - Tip: To tame the onion's strong flavor, soak slices in cold water for 15 minutes; drain and pat dry.
Step 2 - In a bowl, toss the watermelon, cucumbers and red onion with a pinch of salt and pepper; add olive oil and toss gently to coat.
Step 3 - Arrange on a large serving platter, drizzle balsamic glaze overtop, to taste. Scatter feta cheese over the salad, then the pistachios, followed by the basil.
Step 4 - Season with a generous grind of pepper.
Step 5 - Serve immediately, refrigerating any leftovers.

Hawaiian BBQ Ribs
These tender ribs are covered in a soy sauce and pineapple-based sauce that is mouthwateringly delicious. Toss together the quick rib rub and let the grill do the work while you relax and enjoy the aroma these ribs bring to the yard.
Serves: 6 Prep: 10 minutes Cook: 2 hours Total: 2 hours 10 minutes Difficulty: Easy
Ingredients
1/2 cup brown sugar
2 teaspoons salt
2 teaspoons pepper
1 tablespoon smoked paprika
1 teaspoon garlic powder
1 teaspoon onion powder
1 teaspoon ground mustard
1 teaspoon cayenne pepper
2 racks baby back pork ribs
3 tablespoons soy sauce
3 tablespoons hoisin sauce
1 cup pineapple juice
4 cloves garlic, minced
1 tablespoon fresh ginger, grated
Sesame seeds, to serve
Green onions, to serve
Directions
Step 1 - Heat grill to medium-low heat.
Step 2 - In a small bowl, combine brown sugar, salt, pepper, paprika, garlic powder, onion powder, ground mustard and cayenne pepper.
Step 3 - Remove membrane from back of ribs. Rub ribs generously with brown sugar mixture. Use heavy-duty aluminum foil to wrap each rib rack. Poke venting slits in each foil pack.
Step 4 - Place ribs on grill and close lid. Cook 2-3 hours, until ribs are tender.
Step 5 - Meanwhile, in a small saucepan over low heat, simmer soy sauce, hoisin sauce, pineapple juice, garlic and ginger together. Transfer to blender and blend until smooth. Divide mixture in half.
Step 6 - Once ribs are cooked, remove foil and place ribs on grill. Brush with one half of the barbecue mixture and cook 10 minutes.
Step 7 - Serve with remaining sauce, sesame seeds and green onions.

Watermelon Dessert Pizza
Dessert pizza is an awesome warm-weather treat! This version uses a watermelon base topped with loads of fresh fruit and a sweet honey drizzle. Yum!
Serves: 4 Prep: 15 minutes Total: 15 minutes Difficulty: Easy
Ingredients
1 slice watermelon
1/2 cup vanilla Greek yogurt
1/4 cup strawberries, sliced
1/4 cup raspberries
1/4 cup cherries, pitted and halved
1/4 cup pomegranate seeds
1/4 cup blackberries
Honey, to drizzle
Fresh mint, for garnish
Directions
Step 1 - Cut a whole circular section of watermelon, about 1½"-2" thick.
Step 2 - Spread an even layer of yogurt over the top of the watermelon slice, leaving a bit of space round the edges to create a "crust."
Step 3 - Layer the fruit as desired.
Step 4 - Drizzle with honey, garnish with mint, and cut into slices.
Step 5 - Serve and refrigerate leftovers.

Italian Cauliflower Salad
Try this pasta-free version of a picnic classic loaded with pepperoni, cheese and a zesty dressing.
Serves: 10 Prep: 25 minutes Cook: 5 minutes Total: 30 minutes Difficulty: Easy
Ingredients
1 package (24 oz.) Kroger® Cauliflower Florets
5 ounces pepperoni slices
8 ounces fresh mozzarella pearls
1 package (10 oz.) grape tomatoes, cut in half
1 can (6 oz.) black olives, cut in half
1/2 cup red onion, chopped
1/2 cup grated parmesan cheese
3/4 cup Kroger® Zesty Italian Dressing
Directions
Step 1- Place a steamer basket over a pot of water. Bring to a boil.
Step 2 - Meanwhile, cut cauliflower florets into bite size pieces. Add to steamer basket; cook 4-6 minutes until just tender. Immediately place in a bowl of ice water to stop cooking.
Step 3 - Drain and place on a kitchen towel to absorb excess water.
Step 4 - Place cauliflower and all remaining ingredients in a large bowl; mix to combine.
Step 5 - Refrigerate leftovers.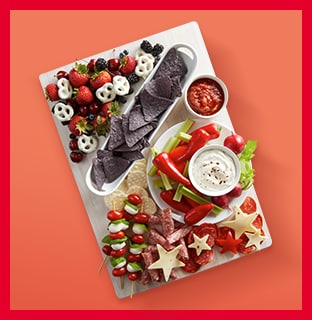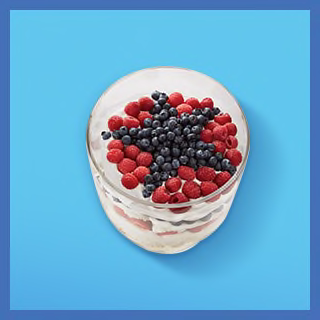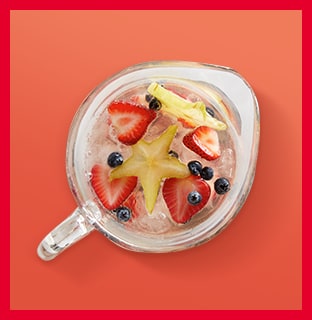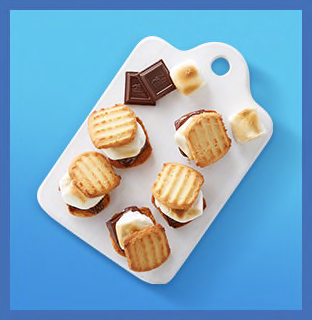 Grazing Board.
Angel Food Cake Trifle
Red, White & Blue Sangria
Shortbread Smores