Bathroom Mini-Makeover
Posted by Stephanie Virgin on Tuesday, January 5, 2021 at 9:45 AM
By Stephanie Virgin / January 5, 2021
Comment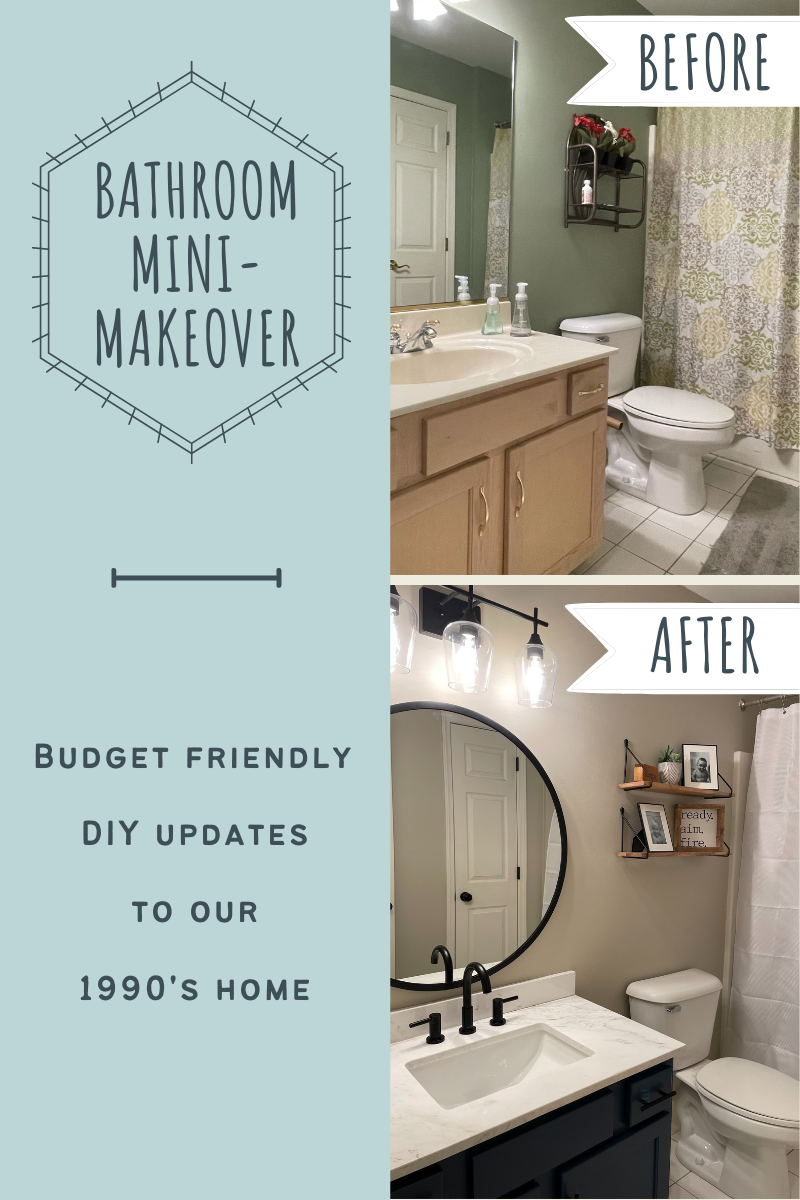 I see a lot of houses. According to the National Association of Realtors, in 2019 the average buyer viewed 9 homes during their home search process. Some buyers are ready to pull the trigger on a house at their first showing and others need to see well over the average before they are ready to make an offer - others might write offers on multiple houses before they get an accepted contract. I would estimate that I've shown over 500 homes in person this year alone, not to mention the hundreds of homes I see online every day.
Seeing all of these homes is inspiring! I love seeing how layouts have been slightly modified, or majorly remodeled. It really gets my creative juices flowing when I can imagine how the flow of a house can change by opening a wall or re-arranging cabinets. My husband, Greg, always says that there is no wall that's safe when I walk through a house. I also know that not every buyer is ready or willing to take on a major remodel, but they may not love every aspect of the home we are seeing. That's when I recommend what I call a "lipstick" update – we aren't trying to have a major facelift, but we want to look a little more modern and put together.
Although I am often telling buyers little things they can do to update their homes, my own home has not gotten much love. Our home was built in 1995 and was still very much living in the 1900's when we purchased it 6 years ago. There was very little that we liked about the finishes in our home, but the layout worked for us and we saw the areas where we could make improvements.
Maybe it was the 2020 quarantine where we spent a lot of time in house, maybe it was realizing the equity we have in our home after two houses sold in our neighborhood. Whatever the reason, we started to make some changes. I've decided to share some of these changes with you, not because they are perfect, but because they are real. I've been frustrated looking for inspiration online and only seeing homes that look nothing like mine which made my own improvements feel more daunting.
Allow me to introduce our kid's bathroom mini-makeover.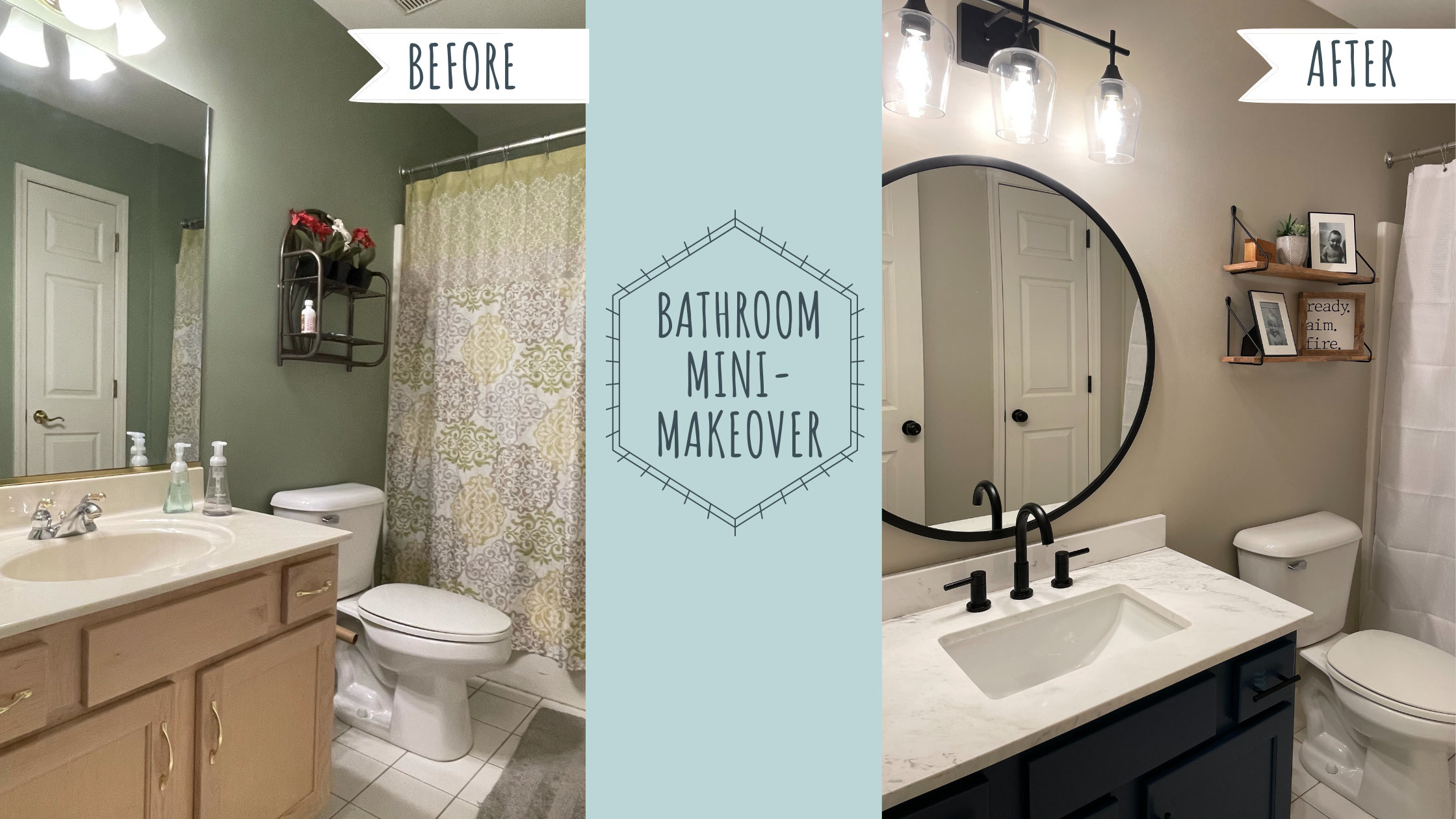 One day, when we decide to sell, I will get professional photos taken, but for now we can just check out my cell phone shots. Here's a quick summary of what we did:
Painted the vanity
Replaced hardware
Installed new sink counter
Installed new faucet
Replaced vanity mirror
Replaced vanity light
Replaced shelving
Painted walls
Here's what we didn't replace:
Flooring - Although I dislike the floor tiles and think they scream 1990's, replacing the tile floor would have exploded the scope (and price) of this project.
Vanity - The floors are actually tiled around the vanity and if we removed the vanity, there would be a vanity sized hole in the flooring. Most newer style vanities that I like don't sit flush to the floor like ours does and there isn't a way to fix that without replacing the floors as well.
On to some details about our "lipstick" bathroom update.
Mirror
The new mirror here was purchased from World Market, with a coupon and sales tax it cost us $162.17. Replacing the mirror was pretty labor intensive due to the fact that the old mirror was glued directly to the wall. When we took the mirror off the wall, chunks of drywall came with it. At 30 inches in diameter, the new mirror was smaller than the 36 inch builder-grade mirror. Lots of drywall patching was involved which took about two days worth of spackling, sanding, spackling, and sanding again.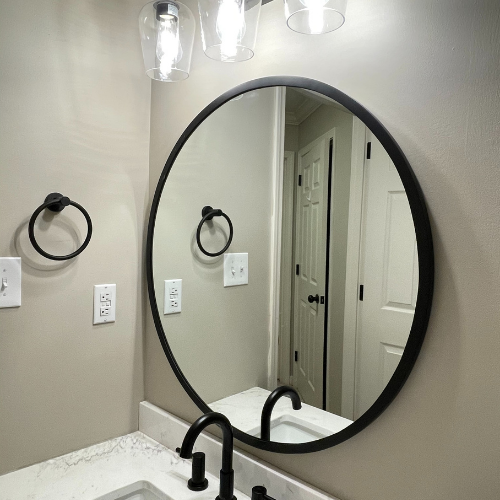 Vanity
The next most-labor intensive part of the project was painting the vanity. Now, I'm pretty lazy, so I researched and found a cabinet and furniture paint at Lowes that is advertised as no sanding needed. We decided to do a primer coat due to this being in a wet and frequently used area even though the can says no priming needed. The directions said we needed 8 hours of dry time, and because I have two young boys at home (and it would be virtually impossible to keep them out of the room during the day) I painted at night after they went to bed. I took the doors off and painted those lying flat in the basement. I used a brush and foam roller. Night 1: Primer; Night 2: Paint first coat; Night 3: Paint second coat. We waited until day 5 to install the hardware and counters so the paint had plenty of time to dry and set before it was in use again.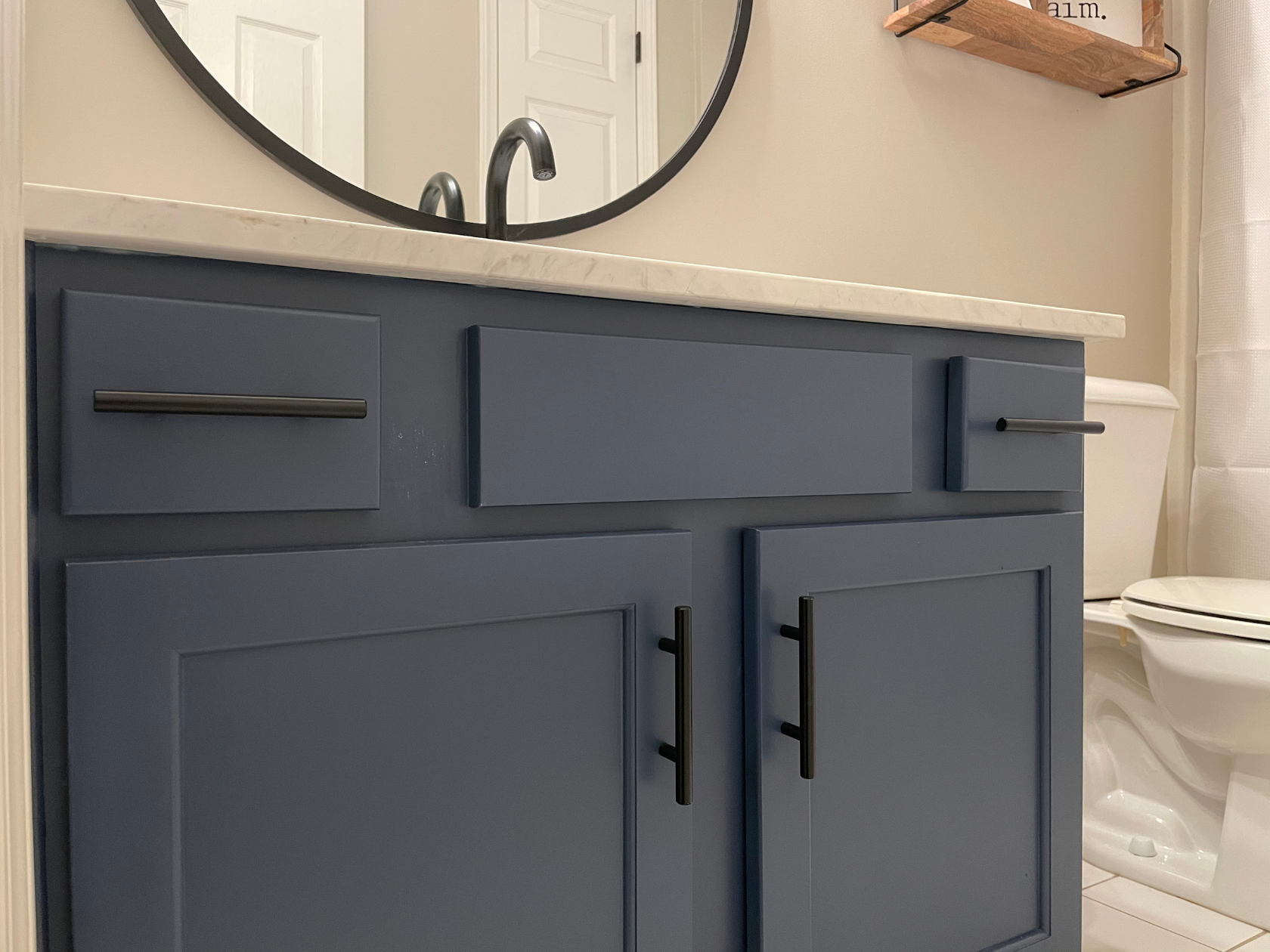 We actually didn't decide to paint the vanity until we were at Lowes picking up the vanity top and faucet, so the paint color was chosen on the fly (I don't recommend doing this). I knew I wanted a navy blue color and I didn't want something too dark because this room doesn't have any natural light. We went with Hampton Surf by Valspar.
Vanity Top
The vanity top from Lowes is marble but must be some kind of marble veneer. You can kind of see the seams in the close up - this is not a solid piece of marble. Which I'm totally OK with because that's what makes this vanity top so affordable at approximately $255. The square undermount sink came pre-attached to the countertop.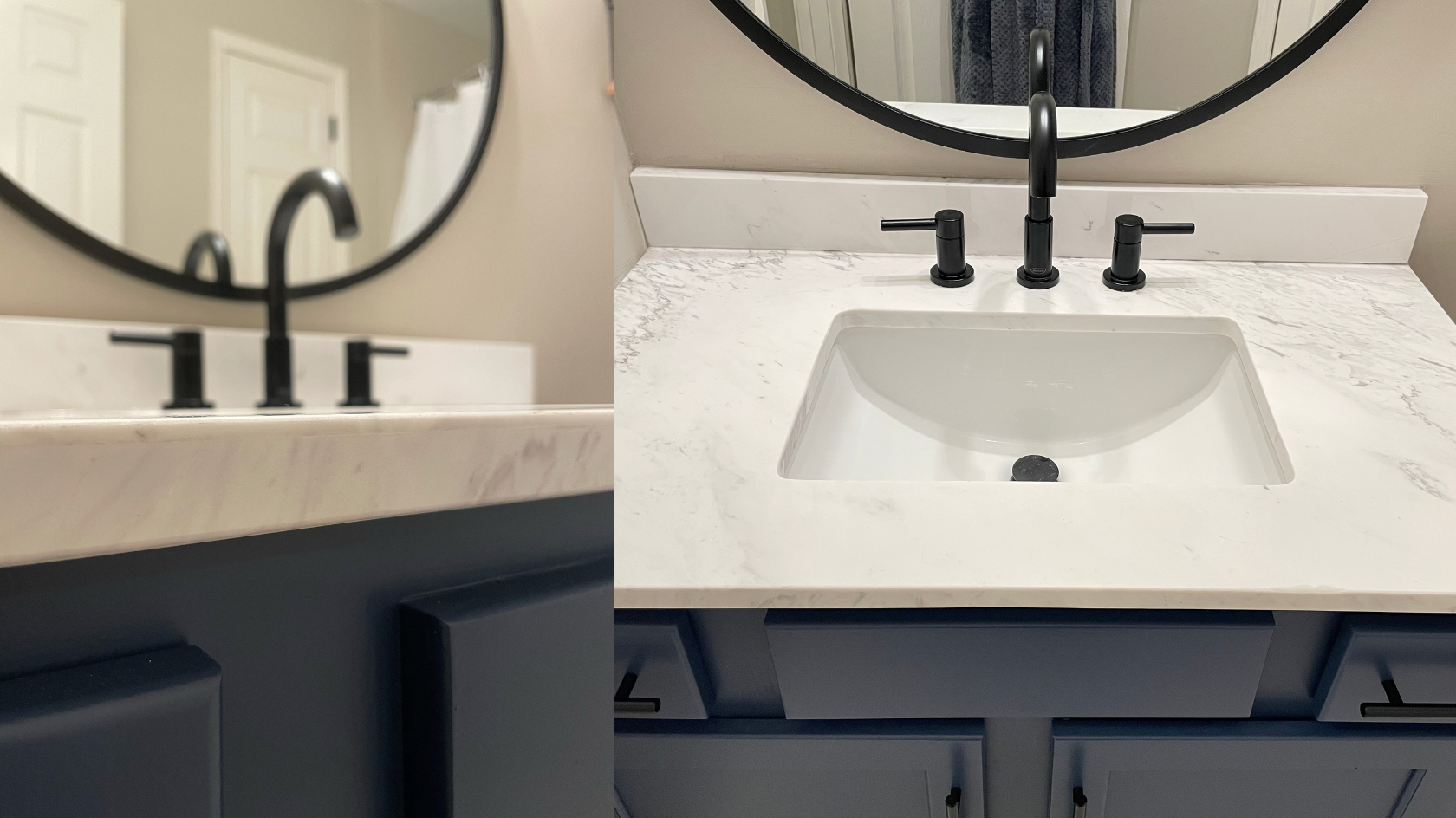 Faucet
The faucet pictured above was the least expensive matte black wide spread faucet that was in-stock at Lowes coming in at $129. To be totally transparent, we ended up calling our favorite plumber to come hook this up. Greg was able to get the waterlines hooked up to the new faucet with no problem, but the drain line was leaking and we couldn't figure out why. We knew it was time to wave the white flag and call in the experts. We probably could have figured it out, but it would have taken a lot longer and a lot more frustration. Our plumber charged us for an hour of labor which was about $135 - totally worth it.
Light Fixture
Greg replaced the vanity light which cost us $69 from Lowes. They show it with the shades pointing up, but we decided to flip it the other way. We've replaced several lights before and its a relatively simple job - here's a YouTube video with some instructions on how to replace a vanity light. If this project seems too daunting just let me know and I can send you contact info for our go-to electrician who charges between $125-150 to replace a light.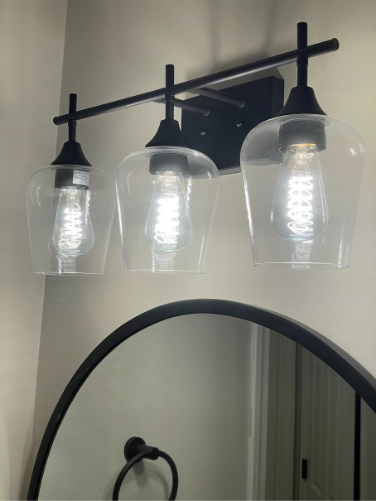 Accessories
I must admit, while I can totally imagine how a house will look with a wall knocked out and kitchen remodeled, I'm not so great with decor. But I tried! These shelves (similar shelves here) were $25 each from the Threshold line at Target and little "Ready. Aim. Fire." sign (totally appropriate for a little boys bathroom) was $15 from Etsy. The bathtub pictures were printed at Walgreens for less than 50 cents and the frames were picked up by our admin on a random trip to T.J. Max for less than $8 each.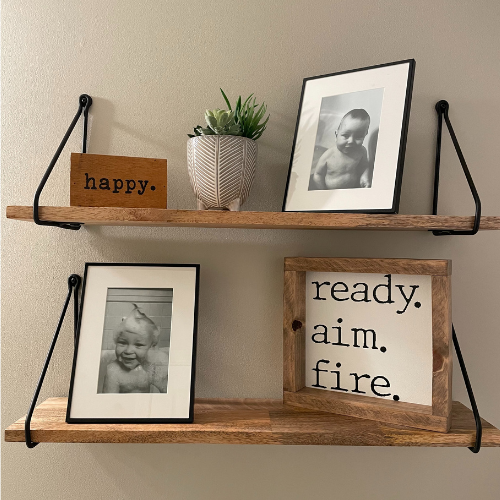 Paint and Hardware
Rounding out the last few details, the walls are painted a very neutral color (that Greg jokingly calls "Basic B Gray") which is actually a beige. Accessible Beige by Sherwin Williams to be exact. It looks very beige online but reads much more of a warm gray in person. The cabinet hardware is from Lowes and the towel hook, toilet paper holder, and shower curtain are from Amazon. Greg also swapped out the door handles and hinges from Amazon as well (which we did throughout the whole house)
Cost
Below is a summary of the total project cost, coming in at $921. We also probably had about $100 worth of miscellaneous supply expenses, like the spackling, silicone, new rollers, etc. The whole thing took about 5 days and I'm overall much happier with the look of our boys bathroom. While it isn't everything that I'd like to have done, it achieves the goal of a "lipstick" update.
| | |
| --- | --- |
| Vanity Top | $ 255 |
| Mirror | $ 163 |
| Plumber | $ 135 |
| Faucet | $ 129 |
| Vanity Light | $ 69 |
| Vanity Paint | $ 54 |
| Shelves (2) | $ 53 |
| Toilet Paper Holder | $ 28 |
| Vanity Hardware | $ 20 |
| Towel Hook | $ 15 |
| | |
| Total | $ 921 |
We've got other projects in the works and I look forward to sharing those with you as well! Happy home improvement!