First Saturday: TOPS magazine Real Estate Rockstars
Posted by First Saturday Real Estate on Friday, June 12, 2020 at 11:59 AM
By First Saturday Real Estate / June 12, 2020
Comment
Inspired by a feeling unique to the first Saturday in May, First Saturday Real Estate is unlike any other real estate agency in Louisville. "The Derby represents hospitality, excellence, celebration, and togetherness – values we aim to bring to everything we do," says Greg Virgin, who founded First Saturday Real Estate with his wife, Stephanie. "A home is more than the structure; it's a place to come together," Stephanie says. "At First Saturday, that's not just what we believe – it's what we do. Whether taking clients to coffee, having them over to our place, or hosting events, gathering together is part of who we are."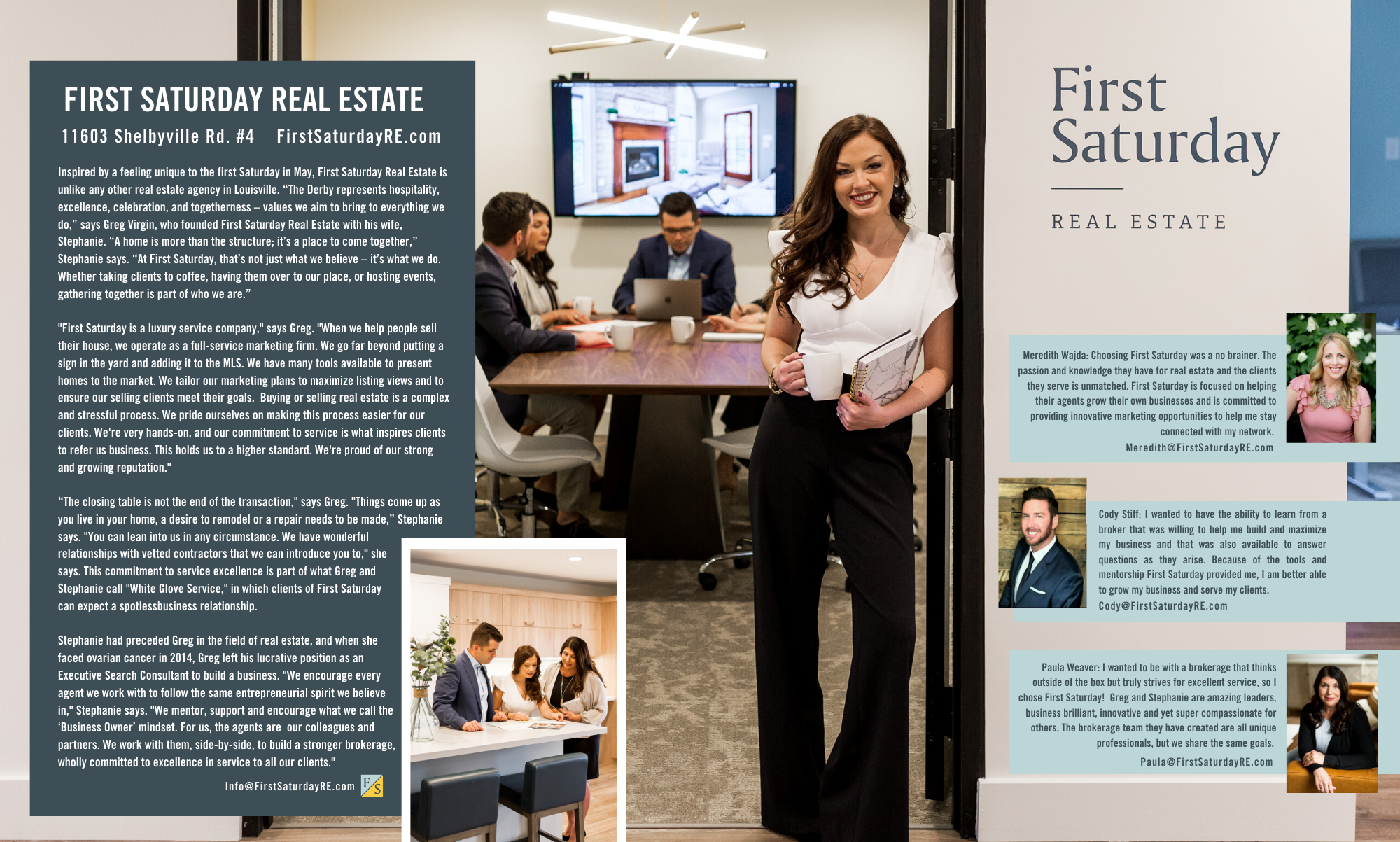 "First Saturday is a luxury service company," says Greg. "When we help people sell their house, we operate as a full-service marketing firm. We go far beyond putting a sign in the yard and adding it to the MLS. We have many tools available to present homes to the market. We tailor our marketing plans to maximize listing views and to ensure our selling clients meet their goals. Buying or selling real estate is a complex and stressful process. We pride ourselves on making this process easier for our clients. We're very hands-on, and our commitment to service is what inspires clients to refer us business. This holds us to a higher standard. We're proud of our strong and growing reputation."
"The closing table is not the end of the transaction," says Greg. "Things come up as you live in your home, a desire to remodel or a repair needs to be made," Stephanie says. "You can lean into us in any circumstance. We have wonderful relationships with vetted contractors that we can introduce you to," she says. This commitment to service excellence is part of what Greg and Stephanie call "White Glove Service," in which clients of First Saturday can expect a spotless business relationship.
Stephanie had preceded Greg in the field of real estate, and when she faced cancer in 2014, Greg left his lucrative position as an Executive Search Consultant to build a business. "We encourage every agent we work with to follow the same entrepreneurial spirit we believe in," Stephanie says. "We mentor, support and encourage what we call the 'Business Owner' mindset. For us, the agents are our colleagues and partners. We work with them, side-by-side, to build a stronger brokerage, wholly committed to excellence in service to all our clients."
Why Our Agents Chose First Saturday Real Estate?

I wanted to be with a brokerage who thinks outside of the box but truly strives for excellent service, so I chose First Saturday! Greg and Stephanie are amazing leaders, business brilliant, innovative and yet super compassionate for others. The brokerage team they have created are all unique professionals, but we share the same goals. - Paula Weaver

I wanted to have the ability to learn from a broker that was willing to help me build and maximize my business and that was also available to answer questions as they arise. Because of the tools and mentorship First Saturday provided me, I am better able to grow my business and serve my clients. - Cody Stiff
Choosing First Saturday was a no brainer. The passion and knowledge they have for real estate and the clients they serve is unmatched. First Saturday is focused on helping their agents grow their own businesses and is committed to providing innovative marketing opportunities to help me stay connected with my network. - Meredith Wajda
Check out the full May issue of TOPS Louisville magazine here.