Get Your Home in Selling Condition!
Posted by First Saturday Real Estate on Friday, December 11, 2020 at 2:11 PM
By First Saturday Real Estate / December 11, 2020
Comment
We have all the details how to prepare your home for sale! With every upcoming listing, we do a home walk through with our sellers to discuss the best route forward in getting their home in "listing condition" prior to it's MLS debut. Often, we suggest neutralizing the home's decor, depersonalizing, decluttering, organizing, and maybe even painting or staging the home. We want to show the home and every room in it's best light.
We have compiled a list of some of our favorite home decor "neutrals" for those times we simply recommend neutralizing and updating decor.
There are steps to preparing your home for listing and we don't recommend the entire process to everyone. Each home is different but we do recommend steps 1-4 if you or anyone else is currently living in the home.
Declutter

Depersonalize

Neutralize your home's interior

Deep clean - hire a profession or do it yourself!

Fresh Paint

Staging with your own furniture

Professional partial staging

Virtual staging (vacant homes)
Declutter
Remove the noise from your home. Clear the counters, remove items from the floor (this includes closet floors), only allow a maximum of 3 items per built-in shelf. The less the buyer has to visually filter through, the better. Ever wonder why we are drawn to those "Architectural Digest" worthy interior home photos we find on Instagram? They're clean, decluttered, and your eyes are free to move around the room's design, seeing it's intended purpose and we're secretly envisioning living in those spaces. That is what you want buyers to do as they flip through images of your home on the MLS or better yet, as they walk through your space.
Depersonalize
This may be tough for some. Removing personal items, photographs, family albums, children's artwork, fridge magnets you've been collecting; This helps the buyer see themselves in this home and not someone else. We also don't want potential buyers to be distracted with family photos, rather, we want them to envision themselves in your home.
Deep Clean
Whether you clean better than any professional or you choose to hire one, having your home clean for the photos and during showings is important. We tend to forget the minor details or the items we aren't constantly wiping down. Buyers will notice these items and often a good camera will too. Clean the blinds, carpets, baseboards, refrigerators, vent covers, faucets and fixtures.
Fresh Paint
Maybe you're into bold colors, patterns, mood and dark spaces, whatever your style, neutralizing a space can make it feel larger, lighter, brighter and appeal to more buyers. We don't always suggest painting when we do, it's so that your room's highlights are standout. For some of our clients, we tackle one show-stopping room, for others, we suggest a fresh coat all over. Paint is this most inexpensive way to refresh and update your home. Additionally, paint can help neutralize any smells that may be lingering. Painting has the highest ROI of anything they can do to upgrade their home for sale. A fresh look, a fresh smell can really impact how buyers perceive the condition of the property on the whole.
Neutral bedding, shower curtains, updated lighting and a fresh coat of paint can go a long way but other times we suggest staging may be the way to go.
Staging
In an article written by: Inman, they noted that, " A stager's goal is to emphasize a home's assets, minimize its less desirable facets and make everything look big, light, bright and open in the photographs that all buyers today see online before they decide to spend time on a personal visit."
For the right home, staging has its advantages. The National Association of Realtors has done a ton of studies on the topic of staging and how it pays off.
For example, in a 2015 National Association of Realtors study found, "for every $100 invested in staging, the potential return is $400 … A staged home will sell for 17 percent more on average than a non-staged home, and 95 percent of staged homes sell in 11 days or less. That is statistically 87 percent faster than non-staged homes."
A 2017 follow-up study conducted by NAR, found among other things that:
49 percent of buyer's agents said that staging had a positive effect on most buyers' outlook on the home
77 percent of buyer's agents said that home staging helped buyers visualize themselves in the home
29 percent of sellers' agents reported an increase of 1 percent to 5 percent of the dollar value offered by buyers when staging, in comparison to similar homes
21 percent said that staging a home increased the home's dollar value by 6 percent to 10 percent
39 percent of sellers' agents stated that home staging greatly decreases the length of time a home is on the market
Take Aways
So what should you take from this information? We first encourage you to declutter and depersonalize your home prior to listing. Get the bad smells out! Remove anything that limits traffic patterns. Paint the walls with neutral colors and you're on the right track for getting your home in listing condition.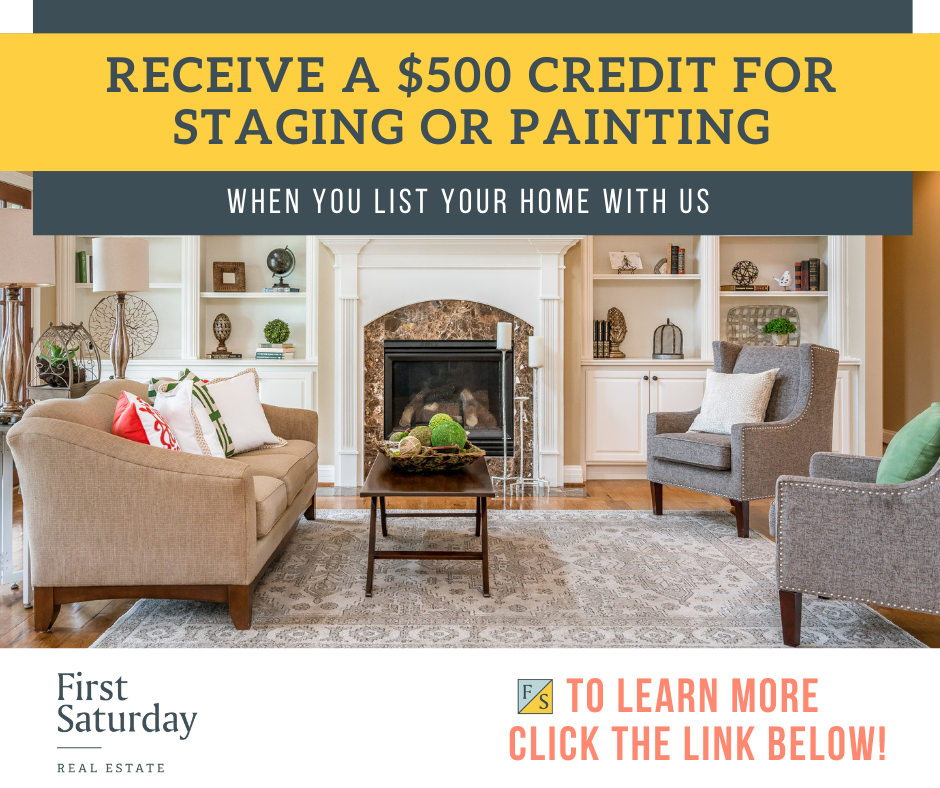 We're offering a promotion to sellers that list their home with us. Receive up to $500 credit toward painting or staging your home. For more information visit firstsaturdayre.com/offer. If you're thinking about listing your home in 2020 and want to know what it takes, click here to schedule a time to chat or email us at [email protected].