Get your Spring landscape in shape!
Posted by First Saturday Real Estate on Friday, April 17, 2020 at 3:11 PM
By First Saturday Real Estate / April 17, 2020
Comment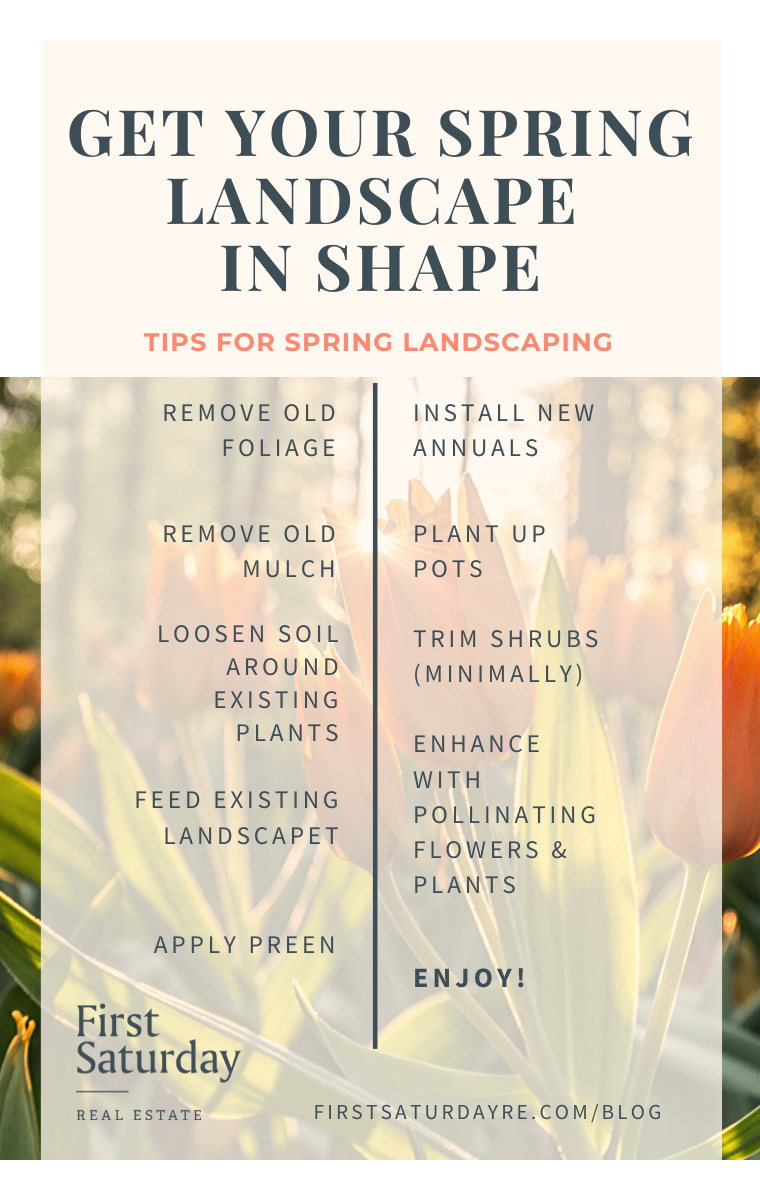 Maintaining your landscaping increases your curb appeal and ultimately the quality and value of your home. We chatted with local and Floridian-based florist,
Angie Kenley
, to get some great tips for spring landscaping.
#1 Start by removing all old foliage & dried flowers from previous season.
#2 Remove old mulch if it has been bleached from the sun or is no longer attractive. If you have ground cover e.g. Ivy, pachysandra, vinea, etc. you may want to trim back to promote new healthy growth.
#3 Loosen soil around existing plants with a gardening tool.
#4 Feed all existing landscaping according to the type of flower or shrub to enhance blooming – feed with "bloom booster" flower food.
#5 Inspect any landscape boarder and replace if showing damage. Replace with timbers, plastic, metal dividers, etc.
#6 Apply preen to soil, just broadcast around to top of soil. Don't bury. Do this BEFORE MULCHING to help prevent weeds. Be sure to water preen once spread.
#7 Install any new annuals into your landscaping before laying down mulch.
Every area is classified by a zone as the terrain can be different due to weather and deposits in the soil. Be sure to check you zone for planting annuals or tropical perennials. Louisville is in zones 6B & 7A. You can checkout what zone you're in, if outside of Louisville by visiting plantmaps.com
(Mother's day and later is usually free from frost. Pansies are good -10 degree.)
#8 Plant up your pots! Create a good assortment of vibrant colors. Be sure you use plants according to how much sun you get in that area. Full sun, partial sun or shade.
You can place pots in your landscaping beds, on your patio and decks. Good color washes up any area. Place pots of herbs around. On top of being functional for your kitchen, they double as great décor!
#9 Trim shrubs minimally. These should be scheduled closer to Fall for their annual pluming.
#10 Enhance any area with plants and flowers that attract butterfly, honeybees and hummingbirds. They help with pollination; A crucial need for our ecosystems!
Examples of some great annuals, perennials and herbs:
Annuals & tropical perennials: Lantana, passion vine, zinnias, sunflowers, calendula
Perennials: Lavender, crocus, aster, milkweed, hollyhocks, snowdrops, cornflower, butterfly bush
Herbs: Fennel, thyme, sage, catmint, lavender
Lastly, enjoy! Gardening can be so therapeutic. Pick up an inexpensive pair of gardening gloves, checkout your local nextdoor.com app and see if neighbors or local friends may have extra pots they're looking to get rid of. Seeds can be inexpensive. Getting your hands in dirt, being out in the sunshine, listening to nature and seeing the plants you spent time on, thrive can be so rewarding.
If you have any questions about gardening or landscaping, add them in the comments and Angie will be happy to answer!
Enjoy the fruits of your labor! Happy Spring!