Have you been impacted by COVID-19? We've compiled a list of resources to help!
Posted by First Saturday Real Estate on Wednesday, April 8, 2020 at 2:26 PM
By First Saturday Real Estate / April 8, 2020
Comment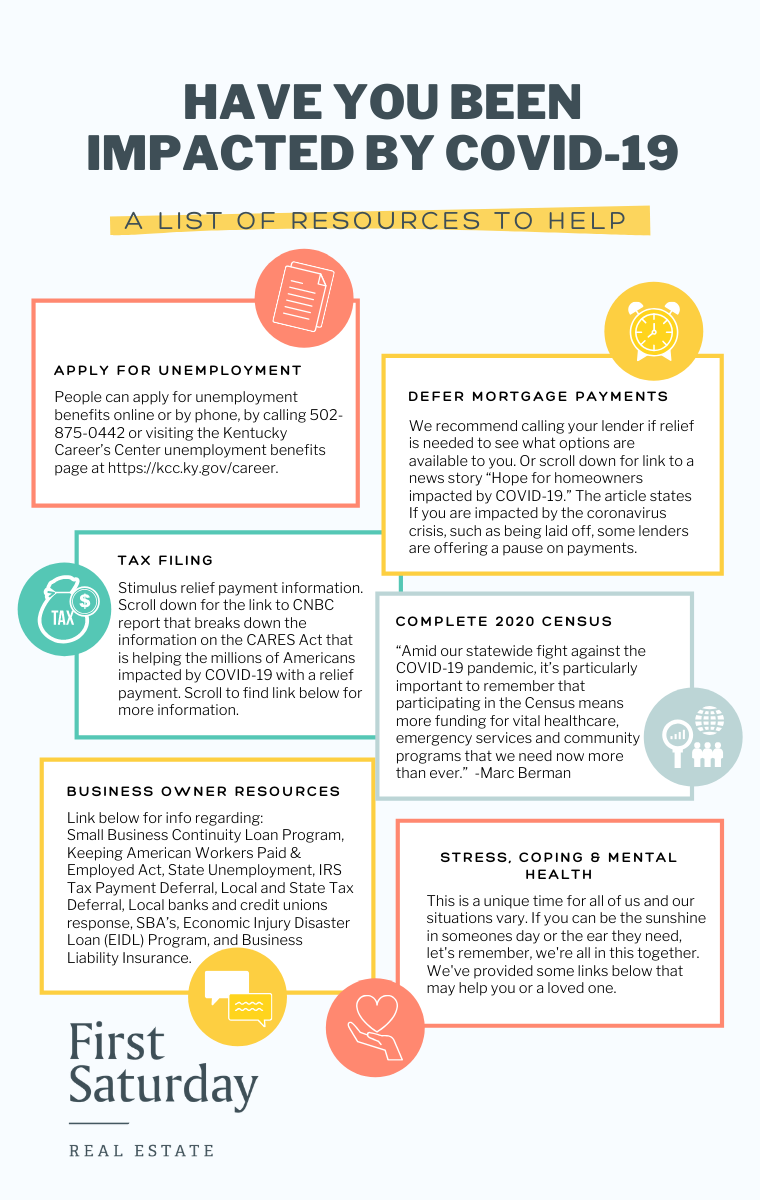 No one expects to be in this situation; these are unprecedented times. With information coming from so many different sources, we wanted to put together a list of resources that may help you get some of the answers you're looking for – not the statistics – but places you may need to start or visit for clear information that can be helpful in your specific situation.

1 - Applying for unemployment
People can apply for unemployment benefits online or by phone, by calling 502-875-0442 or visiting the Kentucky Career's Center unemployment benefits page at https://kcc.ky.gov/career.
Read more here: https://www.kentucky.com/news/coronavirus/article241228426.html?fbclid=IwAR3fQb4yjlmWmqz09DEqbNQzS8_SmRktLbYcOE2bATsowlIc-QHiqF5Df10#storylink=cpy

2 - Defer mortgage payments
We recommend calling your lender if relief is needed to see what options are available to you.
A recent newstory, "Hope for homeowners impacted by COVID-19," states If you are impacted by the coronavirus crisis, such as being laid off, some lenders are offering a pause on payments.
Mike Jensen, co-founder of FREEandCLEAR.com says the big lenders like Fannie Mae and Freddie Mac are giving those homeowners options never offered before." For more on this checkout > > > https://www.whas11.com/article/news/health/coronavirus/homeowners-impacted-coronavirus/417-811aec06-838e-47ee-a52a-9fa988f61fea
3 – Tax filing information
https://www.irs.gov/coronavirus-tax-relief-and-economic-impact-payments
Stimulus relief payment information
Checkout this report by CNBC that breaks down the information on the CARES Act that is helping the millions of Americans impacted by COVID-19 with a relief payment (also known as an economic impact payment or stimulus check) click here > https://www.cnbc.com/2020/04/01/whos-eligible-for-covid-19-stimulus-checks-your-questions-answered.html

4 - Complete your census
Complete your census here https://2020census.gov. This doesn't help immediately but is important for the future and here's why...
"....participating in the Census means more funding for vital healthcare, emergency services and community programs that we need now more than ever," Marc Berman states in his article "COVID-19 shows why Californians should Complete Census." It's important in every state to the few minutes it takes to complete the 2020 Census.
To read more of this article, click https://www.mercurynews.com/2020/04/07/opinion-covid-19-reinforces-why-californians-should-complete-census/.

5 - Business owner resources
This link is chalk full of information for local business owners. For any information regarding the following click on the link below:
Small Business Continuity Loan Program
Keeping American Workers Paid & Employed Act
State Unemployment
IRS Tax Payment Deferral
Local and State Tax Deferral
Local banks and credit unions response
SBA's Economic Injury Disaster Loan (EIDL) Program
Business Liability Insurance
METCO
Other Loan Programs
KIVA
Small business resources > > > https://louisvilleky.gov/government/louisville-forward/small-business-resources-covid-19
6 - Mental Health - stay healthy
Additionally, we know this is a stressful time for so many and for many different reasons. Now more than ever, we can reach out to others with a kind word and listening ear. We're all in this together. #TeamKentucky
Checkout the CDC's suggestion on Stress & Coping
https://www.cdc.gov/coronavirus/2019-ncov/daily-life-coping/managing-stress-anxiety.html
NAMI – National Alliance on Mental Illness - https://www.nami.org/covid-19-guide