Pretty DIY Fall Wreath Ideas: Three Ways to Make your Own
Posted by Danielle Stollerman on Monday, September 20, 2021 at 11:29 AM
By Danielle Stollerman / September 20, 2021
Comment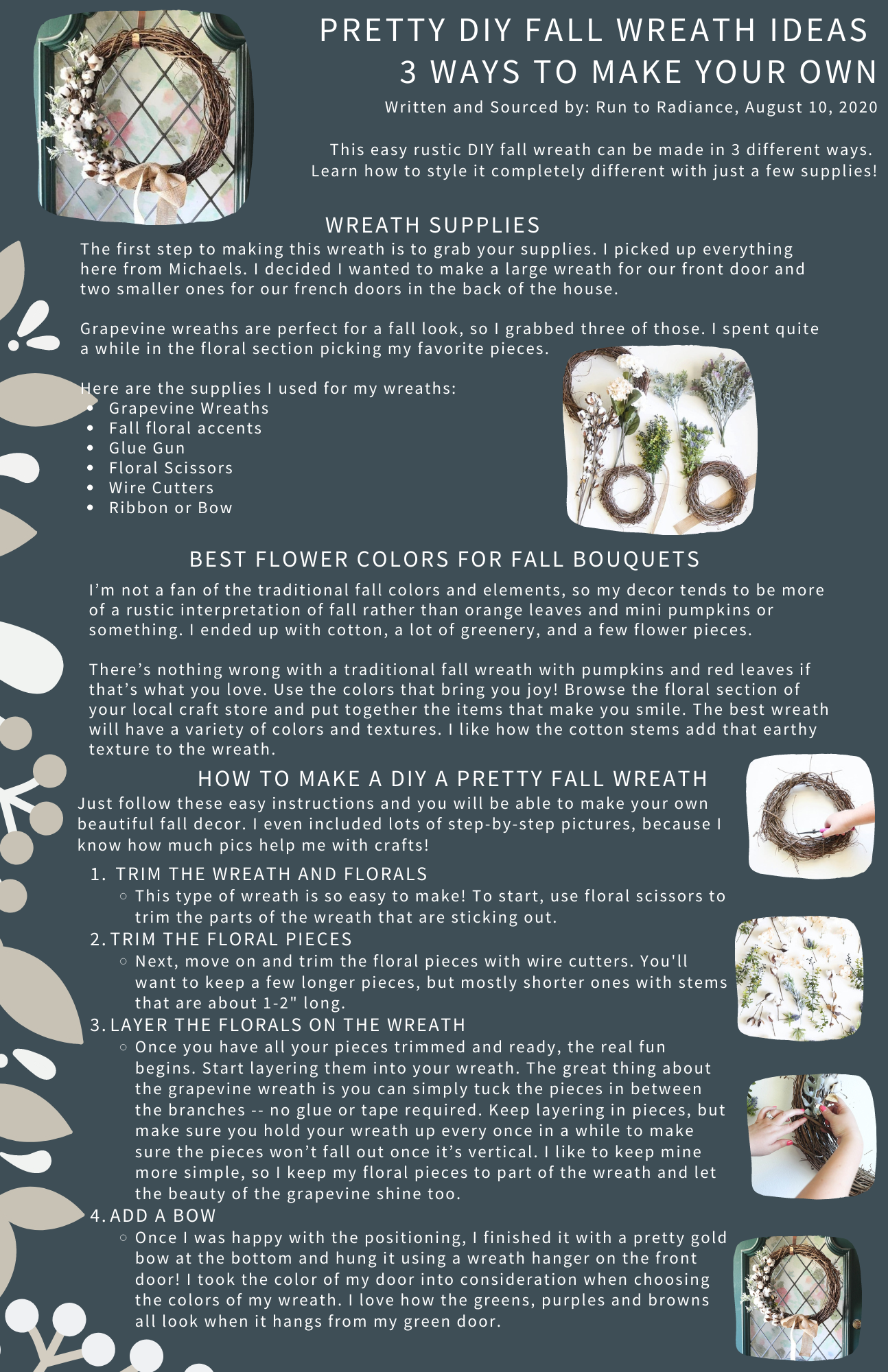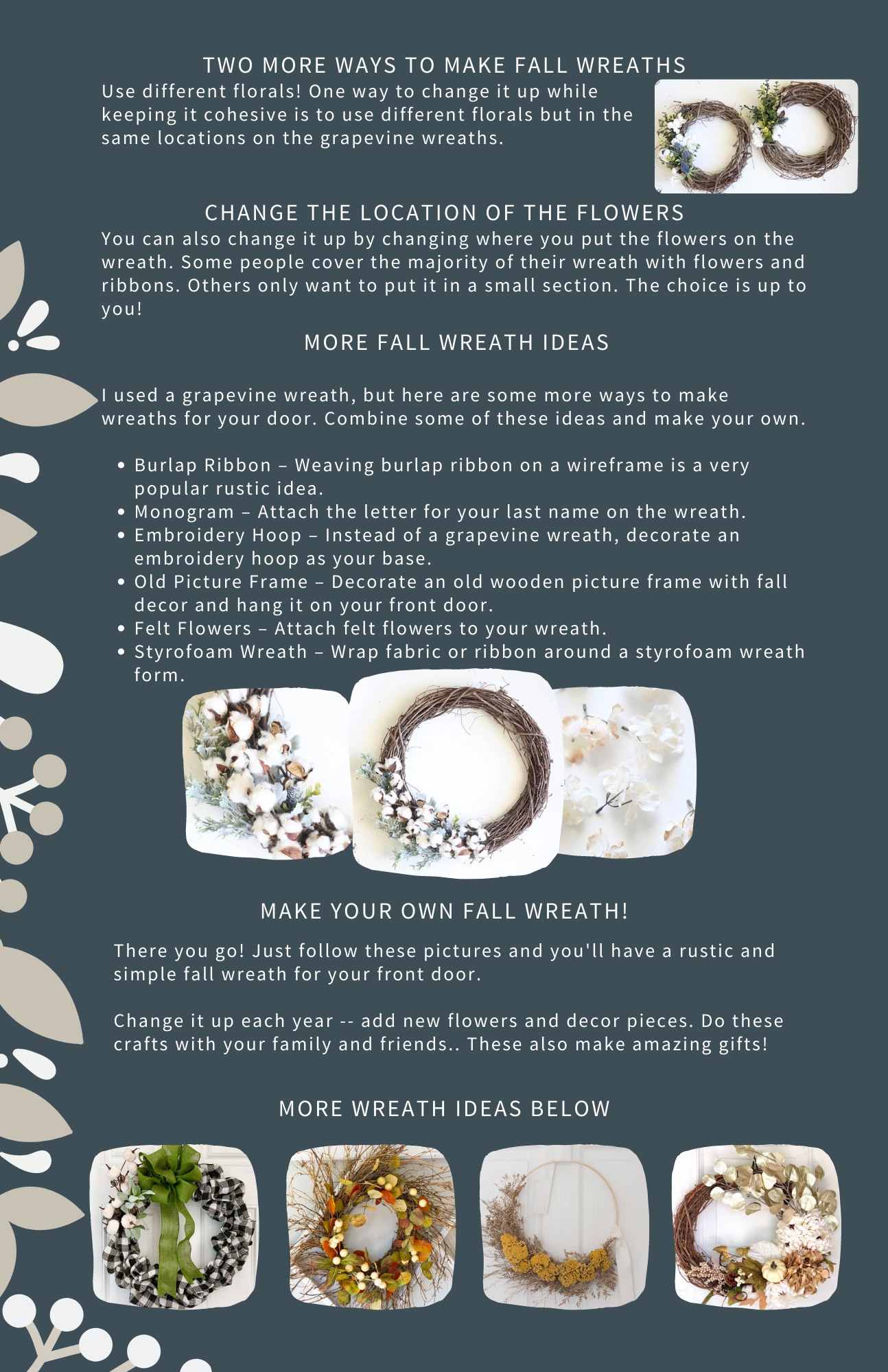 Pretty DIY Fall Wreath Ideas - 3 Ways to Make Your Own
Written and sourced by: Run to Radiance, August 10, 2020
This easy rustic DIY fall wreath can be made in 3 different ways. Learn how to style it completely different with just a few supplies!
Wreath Supplies
The first step to making this wreath is to grab your supplies. I picked up everything here from Michaels. I decided I wanted to make a large wreath for our front door and two smaller ones for our French doors in the back of the house,
Grapevine wreaths are perfect for a fall look, so I grabbed three of those. I spent quite a while in the floral section picking my favorite pieces.
Here are the supplies I used for my wreaths:
Grapevine wreaths
Fall floral accents
Glue gun
Floral scissors
Wire cutters
Ribbon or bow
Best Flower Colors for Fall Bouquets
I'm not a fan of the traditional fall colors and elements, so my decor tends to be more of a rustic interpretation of fall rather than orange leaves and mini pumpkins or something. I ended up with cotton, a lot of greenery, and a few flower pieces.
There's nothing wrong with a traditional fall wreath with pumpkins and red leaves if that's what you love. Use the colors that bring you joy! Browse the floral section of your local craft store and put together the items that make you smile. The best wreath will have a variety of colors and textures. I like how the cotton stems add that earthy texture to the wreath.
How to Make a DIY Pretty Fall Wreath
Just follow these easy instructions and you will be able to make your own beautiful fall decor. I even included lots of step-by-step pictures, because I know how much pics help me with crafts!
1. TRIM THE WREATH AND FLORALS

This type of wreath is so easy to make! To start, use floral scissors to trim the parts of the wreath that are sticking out.

2. TRIM THE FLORAL PIECES

Next, move on and trim the floral pieces with wire cutters. You'll want to keep a few longer pieces, but mostly shorter ones with stems that are about 1-2" long.

3. LAYER THE FLORALS ON THE WREATH

Once you have all your pieces trimmed and ready, the real fun begins. Start layering them into your wreath. The great thing about the grapevine wreath is you can simply tuck the pieces in between the branches -- no glue or tape required. Keep layering in pieces, but make sure you hold your wreath up every once in a while to make sure the pieces won't fall out once it's vertical. I like to keep mine more simple, so I keep my floral pieces to part of the wreath and let the beauty of the grapevine shine too.

4. ADD A BOW

Once I was happy with the positioning, I finished it with a pretty gold bow at the bottom and hung it using a wreath hanger on the front door! I took the color of my door into consideration when choosing the colors of my wreath. I love how the greens, purples and browns all look when it hangs from my green door.
Two More Ways to Make Fall Wreaths
Use different florals! One way to change it up while keeping it cohesive is to use different florals but in the same locations on the grapevine wreaths.
Change the Location of the Flowers
You can also change it up by changing where you put the flowers on the wreath. Some people cover the majority of their wreath with flowers and ribbons. Others only want to put it in a small section. The choice is up to you!
More Fall Wreath Ideas
I used a grapevine wreath, but here are some more ways to make wreaths for your door. Combine some of these ideas and make your own
Burlap Ribbon – Weaving burlap ribbon on a wireframe is a very popular rustic idea.
Monogram – Attach the letter for your last name on the wreath.
Embroidery Hoop – Instead of a grapevine wreath, decorate an embroidery hoop as your base.
Old Picture Frame – Decorate an old wooden picture frame with fall decor and hang it on your front door.
Felt Flowers – Attach felt flowers to your wreath.
Styrofoam Wreath – Wrap fabric or ribbon around a styrofoam wreath form.
Make your Own Fall Wreath
There you go! Just follow these pictures and you'll have a rustic and simple fall wreath for your front door. Change it up each year -- add new flowers and decor pieces. Do these crafts with your family and friends.. These also make amazing gifts!
More Wreath Ideas Below