Spring Home Maintenance
Posted by Stephanie Virgin on Thursday, March 25, 2021 at 9:08 AM
By Stephanie Virgin / March 25, 2021
Comment

Spring is the season of renewal and your opportunity to renew your home. Our winters can be quite unforgiving on a home's exterior, and Spring is the perfect time to ensure your home is ready for harsh summer conditions.
Instead of waiting for something to go wrong, get ahead of the game with our checklist of to-dos!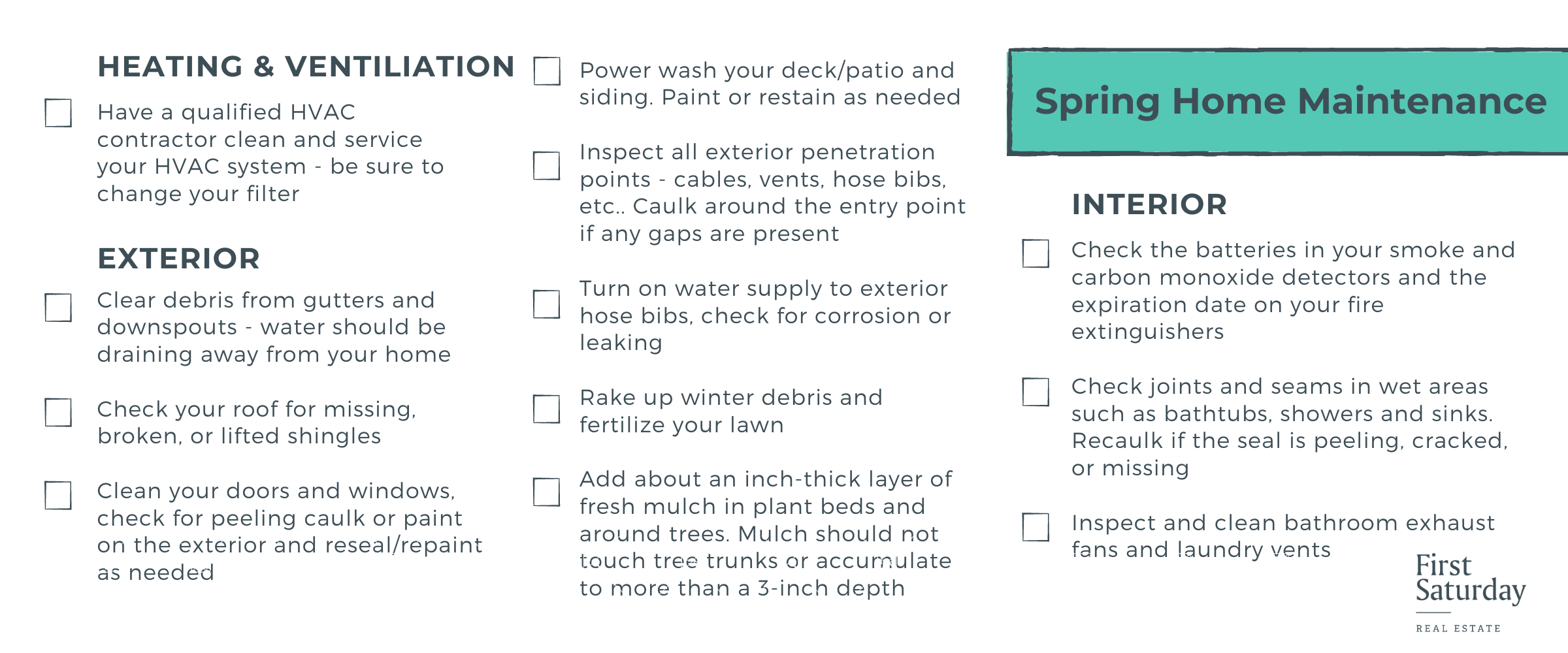 Heating & Ventilation
Have a qualified HVAC contractor clean and service your HVAC system - be sure to change your filter
Exterior
Clear debris from gutters and downspouts - water should be draining away from your home
Check your roof for missing, broken, or lifted shingles
Clean your doors and windows, check for peeling caulk or paint on the exterior and reseal/repaint as needed
Power wash your deck/patio and siding. Paint or restain as needed
Inspect all exterior penetration points - cables, vents, hose bibs, etc.. Caulk around the entry point if any gaps are present
Turn on water supply to exterior hose bibs, check for corrosion or leaking
Rake up winter debris and fertilize your lawn
Add about an inch-thick layer of fresh mulch in plant beds and around trees. Mulch should not touch tree trunks or accumulate to more than a 3-inch depth
Interior
Check the batteries in your smoke and carbon monoxide detectors and the expiration date on your fire extinguishers
Check joints and seams in wet areas such as bathtubs, showers and sinks. Recaulk if the seal is peeling, cracked, or missing
Inspect and clean bathroom exhaust fans and laundry vents
Be sure to reach out to us if you find yourself in need of a contractor! We have someone for every home project and are happy to introduce you to people we have worked with and know do great work.
Spring is also a busy time of year for our business! If someone you know is considering a sale or purchase, introduce us! We will give them first-class First Saturday service!