Stephanie's Journey Showcased by Norton Healthcare Blog
Posted by Greg Virgin on Monday, February 24, 2020 at 3:40 PM
By Greg Virgin / February 24, 2020
Comment
David Steen Martin wrote a wonderful piece about Stephanie that was shared last week on the Norton Healthcare website. Check it out by clicking HERE. I have also copied the article in full below. She is an amazing woman and professional!
------------
Back from stage 3 ovarian cancer, Stephanie Virgin is a mom and thriving professional: Cancer journey has turned survivor into an advocate for awareness.
By: David Steen Martin • Posted: February 18, 2020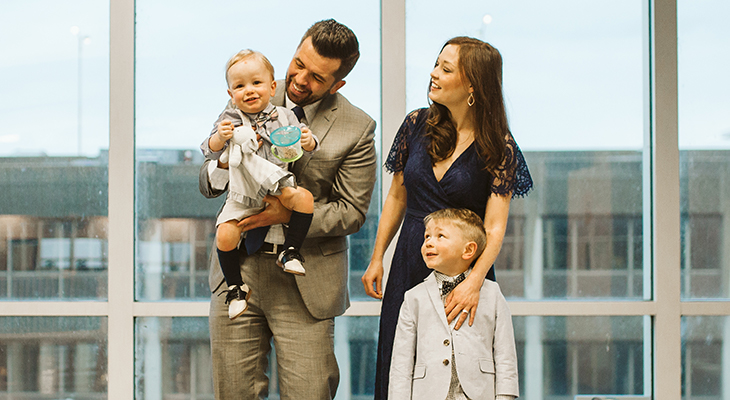 Photo by Anna May Photography
Stephanie Virgin was 29 and hoping to start a family, so ovarian cancer was the last thing on her mind — even when she experienced textbook symptoms.
The Louisville native chalked up her back pain to the high heels she wore to her work in real estate. She thought the need to urinate frequently was from all the water she drank, and she blamed the cramping, bloating and irregular periods on going off birth control. And then there was the heartburn, decreased appetite and fatigue.
When she almost passed out one morning in September 2014, her husband, Greg, insisted she go to the doctor. Her physician pressed on her belly and felt what he thought was a large ovarian cyst. An ultrasound showed something more ominous.
"When you get told you have cancer, you black out. … I literally froze," Stephanie said.
Stephanie did not fit any of the risk groups. She was young. The average age of diagnosis is 63.
Also, she had no family history of breast or ovarian cancer, didn't smoke, wasn't overweight, did not have endometriosis and never had taken fertility medications.
Stephanie's surgeon found cancer on both ovaries, fallopian tubes, uterus, cervix, bladder, ureter, omentum and colon. Her diagnosis: stage 3 low-grade serous adenocarcinoma.
Stephanie went to see Lynn Parker, M.D., gynecologic oncologist with Norton Cancer Institute.
"Dr. Parker is big on research," Stephanie said
The research showed patients who can tolerate an aggressive treatment (IV/IP chemotherapy) survive an additional 18 months on average.
"I felt like this was my best chance," Stephanie said.
The inpatient chemotherapy was difficult. She was given Taxol intravenously and the chemo drug cisplatin injected directed into her abdomen, a procedure called intraperitoneal, or IP. The treatment caused the number of infection-fighting white blood cells called neutrophils to decrease to the point where Stephanie needed blood transfusions.
"That was tough," she said. "Dr. Parker was always there to answer any question you had. When you talk to her, it's like you're her only patient. She doesn't need to look at the chart to see who is this and what is this about."
After 5 Years, Still Under Surveillance
After five years, Stephanie is being monitored closely and taking medication because of a high recurrence rate for ovarian cancer.
Stephanie speaks to third-year medical students about her experience and does other outreach to spread the word about ovarian cancer, which strikes 1 in every 88 women.
"I had almost every symptom," Stephanie said.
Those symptoms, however, are relatively easy to ignore or blame on something else.
"Ovarian cancer is called the silent killer or the cancer that whispers," Stephanie said.
Stephanie belongs to Ovarian Awareness of Kentucky (OAK) and tries to use social media such as Facebook and Instagram to let women know about ovarian cancer, especially younger women who may not think they are at risk.
She also tries to mentor young survivors through an Ovarian Cancer Young Survivors Facebook page she started, which has almost 500 members.
Stephanie is back at work, running First Saturday Real Estate with her husband.
'Whatever It Takes for You to Be a Mommy'
Because she had a radical hysterectomy, Stephanie knew she couldn't have children.
"For me one of the toughest things was the loss of my fertility. I went through a period of mourning," Stephanie said. "I cried and told my husband, 'We would have made such beautiful babies. My husband was amazing. He said, 'We're going to do whatever it takes for you to be a mommy.'"
Stephanie and Greg have since adopted biological brothers through the foster care system. The boys are now ages 6 and 2 1/2.
"We have two beautiful boys," said Stephanie, who is passionate about her family and her work.
Stephanie said her cancer journey has changed her outlook. She now says yes to more experiences and risks, like starting her own business.