WHY Shop Local This Holiday Season!?
Posted by First Saturday Real Estate on Monday, November 23, 2020 at 12:45 PM
By First Saturday Real Estate / November 23, 2020
Comment
With the holiday season right around the corner, we know now is the time you're shopping for loved ones. This year has been hard on so many, including our small businesses that make our great city unique. The pandemic has caused so many of our wonderful local small businesses to close their doors and we want to do everything we can to stop this from happening.
Small business Saturday is coming up and we want to encourage you to support our local small businesses. KeepLouisvilleWeird.com shared some pretty interesting figures in their 20/21 Buy Local Guide.
If we want to fare this season and see our local small shops stick around when we come through the worst of the pandemic, let's do all we can to keep our shopping local, keep our city thriving and share the love with our favorite small businesses. Spend local. Shop small business this holiday season. Keep Louisville weird!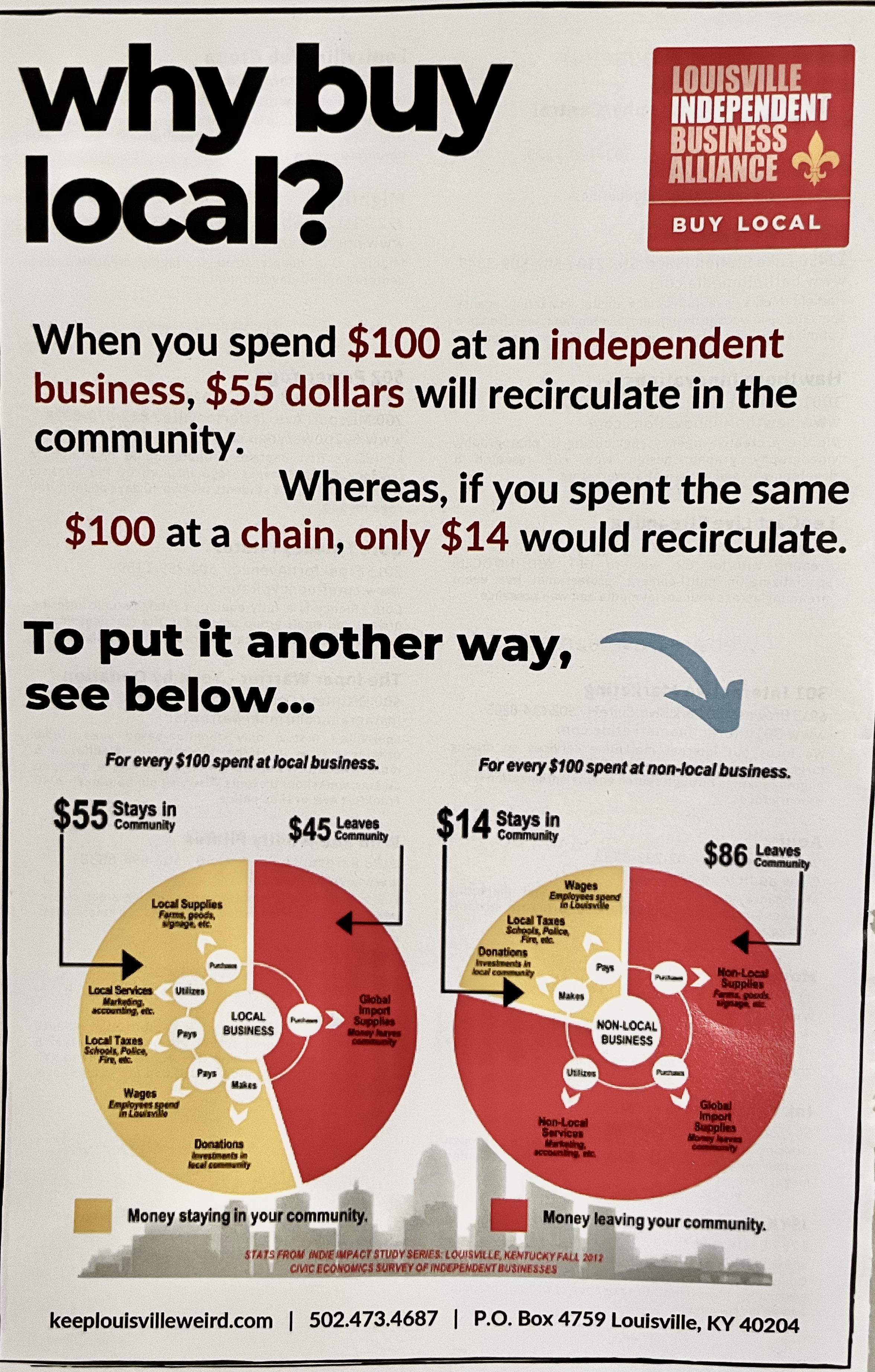 Why Buy Local?
To Keep it Weird: Locally-owned businesses are one-of-a-kind enterprises that are vital to the unique character of the Louisville Metro community.
To Keep Your $$$ Local: Dollars spent at community-based merchants create a multiplier effect - a boost to the local economy. Check out our 2012 Louisville study!
To Keep More Jobs: Local businesses are better at creating higher-paying jobs for our neighbors.
To Help the Environment: Buying from a local business conserves energy and resources in the form of less fuel for transportation and less packaging.
To Keep Good Karma: Studies have shown that local businesses donate to community causes at more than twice the rate of chains.
To Keep Your Options: A multiplicity of independent retailers creates a greater diversity of products available to shoppers.
Here are some great places to shop and support this holiday season!
Local Art & Gifts
Revelry Gallery - https://revelrygallery.com
Work The Metal - https://workthemetal.com
Jenny Westenhoffer – Local Artist – 20% off sale Nov. 27- Nov. 30th https://www.jennywestenhofer.com/shop-online
Home Décor and more!
European Splendor - https://www.european-splendor.com
Forage - https://forageplants.com
Digs - https://www.digshomeandgarden.com
Red Tree Furniture - http://www.redtreefurniture.com
Posh Home Frankfort - https://poshhomelouisville.com
Fleur De Lis Interiors Accessories & Gifts - https://www.fleurdelisandmerci.com/galleries
Clothing, Accessories & Gifts
Scout - http://www.scoutonmarket.com
Peppermint Palm - https://www.peppermintpalm.net
Darling State of Mind - https://darlingstateofmind.com
The Urban Market - https://theurbanmarket.com
Tunies - https://www.shoptunies.com/collections/earrings2
Six Sisters Boutique - https://sixsistersnulu.com
Sandi's Styles Fashion Boutique - https://sandisstyles.com
Rabbit and The Moon - https://www.rabbitinthemoonstore.com
Rodeo Drive- https://www.shoprodeodrive.com
Magnolia & Fig - https://magnoliaandfigboutique.com
The Prickly Pear - https://www.thepricklypearlou.com
Chick A D's - https://www.chickads.net
HIM Boutique - http://www.himgbfrankfortave.com
Collections Boutique
Peace of Earth - https://www.peaceoftheearth.com/shop.html#/
Two Chicks and Company - https://twochicksandcompany.com
Etcetera - https://etceteraoflouisville.com
Cartwheels papers and gifts
Don't forget about….
Playthings Toy Shoppe - https://www.playthingstoyshoppe.com
Carmichael's Bookstore - https://www.carmichaelsbookstore.com
Bourbon Barrel Foods - https://bourbonbarrelfoods.com
Calospa - https://www.calospa.com
Strands Salon – Gift cards for amazing services! https://strandssalonandspa.net/services
Mind Body Massage - Amy Niemann with Healing Within Louisville is an incredible masseur. Gift cards can be purchased for her services.
Plant One on Me - https://plantparenthoodky.com
My World Travel - https://myworldtravelco.com. Affordable custom vacation planning gift certificates located in Louisville!
The Secret Garden - https://secretgardenshop.com
---
Here are some great places to dine outdoors during this season! https://www.firstsaturdayre.com/blog/best-patios-round-up-louisville/ or grab takeaway/carryout.
Restaurant giftcards make great gifts too!
If you're a small business and we didn't list you here, please leave your name and web address in the comments! We want to add you to the list!