"You Are Your Own Best Advocate"
Posted by Stephanie Virgin on Friday, July 24, 2020 at 5:43 AM
By Stephanie Virgin / July 24, 2020
Comment
"You Are Your Own Best Advocate" – Recognizing the Subtle Symptoms of Ovarian Cancer
We're reminding you to always take the time out to listen to your body. It's easy in these times to get caught up in the chaos. Our ever-changing schedules cause us to be "on-the-go" and can easily allow us to overlook what's going on with our own bodies. Take an hour out of your day for self-care - whether it's waking up an hour early to enjoy the quiet, taking to the mat for a yoga session, sitting down to enjoy a podcast or book - take the time for yourself. Time to just listen to your body's needs. We're grateful our fierce leader, Stephanie Virgin, did just that in 2014.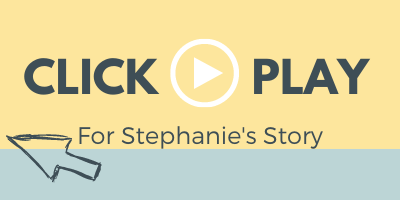 Written by SurvivorNet Staff:
Stephanie Virgin had been married for about three years and working as a realtor when she and her husband decided it was time to start a family. The couple had always wanted to be parents. "So I went to my annual appointment with my ob/gyn and told her we were ready to start trying to have kids, and that I'd stopped taking my birth control," Stephanie recalls.
Her gynecologist's reply: "Great. I'll either see you in a year. . . or I'll see you when you're pregnant."
Soon after going off birth control, Stephanie started noticing what she now realizes were symptoms of ovarian cancer.
"I had worsened cramping, but I'd heard that could be the menstrual cramping that I just wasn't used to, since I'd been on birth control. I'd also heard of ovulation cramping, so I just thought cramping was a really good sign of trying to get pregnant."
She also had new lower back pain, but brushed it off as a result of her real-estate job. "I walked around on unstable surfaces in high heels all the time, showing houses," she says. She never imagined her back pain might be a sign of cancer.
Looking back, Virgin says, "I could explain away every single one of my symptoms." Actually, she admits, "I didn't even realize they were symptoms."
Stephanie was finally uncomfortable enough to visit her primary care physician, who suspected a large ovarian cyst. Surgery revealed that she had ovarian cancer. Now, years later, Stephanie has been successfully treated, and she and her husband are the happy parents of two boys they adopted through foster care.
Her message to women: "If you don't feel right, call your doctor. If your doctor doesn't listen, get a second opinion. You need to know that you are your own best advocate."
The SurvivorNet community is filled with extraordinary people sharing their stories, energy and compassion to help you chart your own way.
To read more of these stories visit https://www.survivornet.com/articles/you-are-your-own-best-advocate-ovarian-cancer-survivor-stephanie-virgins-story/amp/.